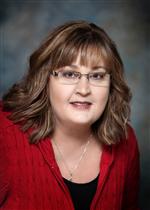 Lori Massman was born and raised in Jefferson City and is a proud 1982 JCHS graduate. She is a longtime employee of Scholastic, Inc. and currently serves as Community Development Manager. She attends First Baptist Church in Jefferson City. Lori loves giving back to our community and is very involved in a number of location organizations and charities, including: United Way of Central Missouri (Board of Directors, Executive Board Vice-Chair), Jay Pride Alive Alumni Board, and the Jefferson City Area Chamber of Commerce (Partners in Education Committee Co-Chair, Leadership Jefferson City Steering Committee).
As a 2012 graduate of the JCPS Vanguard program, a member of the JCPS Foundation Board of Directors from 2015-2017, and a longtime PTO member, Lori has been involved in our district for many years. She is also a 2006 graduate of Leadership Jefferson City, a 2010 graduate of the Missouri Chamber of Commerce's Leadership Class, a 2007 Zonta Women of Achievement Nominee, the 2011 recipient of the United Way's Live United award, the 2015 recipient of the United Way's Outstanding Campaign Coordinator award, a former Co-Chair for the United Way of Central Missouri's Community Campaign (2012-2013), a former member of the Jefferson City Area Chamber of Commerce Board of Directors (2012-2014), and a 2014 recipient of the American Heart Association's Lifestyle Change Award.
Lori is married to Leroy Massman and has four children: Drew, a 1999 Jay grad (wife, Jennifer); Ashley, a 2001 Jay grad (husband, Shawn); Kaleb, a 2007 Jay grad (wife, Kayla); and Christian, who is currently a freshman at Simonsen Ninth Grade Center. Lori has a grandson Cooper, and a granddaughter due in the fall. Lori's parents, Jim and Helen, are also JCHS graduates.
Lori is passionate about making a difference and specifically serving students in the Jefferson City community. Her school board term ends April 2020.