Stay Connected to IED with Remind

Sign-up for reminders to stay connected with the classroom.

Remind is a safe and easy way to stay connected with the classroom. Parents and students can register to receive one-way messages with classroom information and reminders.

When you sign-up, remind will not share your phone number/email address so everything stays private!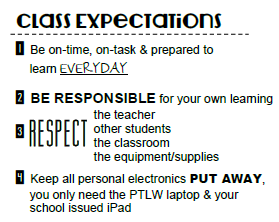 Intro to Engineering Design Course Materials

PLTW uses a learning management system (LMS) to house all course materials. Individuals must have a username and password to access the (LMS). Ask your student to login and show you the LMS.

It is important to keep in mind that all grades are housed in Infinite Campus, grades reflected in the LMS are not weighted as they are in Infinite Campus and does not contain all graded items.
Last Modified on August 13, 2016