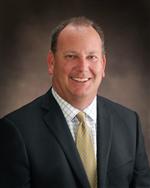 Scott W. Hovis is the Executive Director of the Missouri Golf Association (MGA). Holding the position since 2005, his primary responsibilities have included planning and running approximately 30 amateur golf events across the state of Missouri each year. These amateur events, which are for juniors, seniors and adults, have seen an increase in player participation by 40 percent since Hovis took over.
As part of his professional duties, Hovis sits on two United States Golf Association (USGA) committees: Regional Associations Committee and Regional Affairs Committee. In 2009, Missouri Governor Jay Nixon appointed Hovis to the Missouri Tourism Commission, and in 2012 he was elected Chair of the Commission.
In 2013, Hovis began serving on the Jefferson City Public Schools Foundation Board. The board, which works with local businesses and individuals, holds events to support families and educates the community regarding the work of the district. In 2016, under the auspices of the Junior Golf Foundation, Hovis successfully opened the first-ever fully handicap accessible golf course in Jefferson City, MO. The Ken Lanning Golf Center, located at Turkey Creek Golf Center, was recently named the 3rd best adaptive sports facility in America by the Sports Planning Guide.
A 1992 graduate of Jefferson City High School, Hovis attended Jefferson City Public Schools his entire childhood, and his parents were also teachers in the district for a combined 56 years! Upon graduating, he attended Kansas State University on a golf scholarship before playing professional golf for several years. He graduated with a Bachelor of Science in Business Administration from William Woods University in 2001.
Today, Scott continues to reside in Jefferson City with his wife, Mindy, their daughter, Taylor, (13) who is in 7th grade at Thomas Jefferson Middle School, and their son, Hunter, (6) who is in 1st grade at West Elementary. When not on a golf course for business, Scott can be found on a golf course for pleasure, attending Mizzou sporting events, or spending time with his family.