Animal Science
Focuses on the scientific principles that underlie the breeding of agricultural animals, and the production, processing, and distribution of agricultural animal products. Includes instruction in the animal sciences, veterinary sciences, , and agricultural and food products processing.
Animal Behaviorist

Animal Nutritionist

Animal Scientist

Geneticist

Meat Scientist

Veterinarian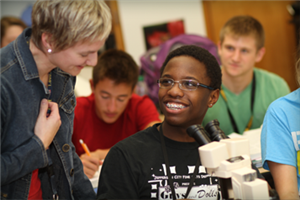 Plant/Soil Science
Conduct research in breeding, physiology, production, yield, and management of crops and agricultural plants or trees, shrubs, and nursery stock, their growth in soils, and control of pests; or study the chemical, physical, biological, and mineralogical composition of soils as they relate to plant or crop growth.
Soil Conservationist

Landscaping

Crop Consultant

Wetlands Specialist

Environmental Technician
Agricultural Systems Management & Technology
The agricultural systems management combines an understanding of the agricultural, biological and physical sciences with economics, managerial and technical skills. Agricultural Systems Management combines Ag Engineering principles (Motion and Power) with economics and distribution. This understanding of science, systems management and applications of engineering can be applied to a career in the production and processing of food, feed, fiber and fuel, and the marketing, sales and distribution of agricultural products and services.
Food Processing Manager

Plant Production Supervisor

Hydrologist Watershed Technician

Processing Plant Manager

Equipment Technicians or Applicators

Dealership Management

Application of Chemicals
Natural Resources & Environmental Science
An environmental scientist applies a scientific understanding of the natural world to the protection of nature. They are concerned with balancing human needs with the needs of organisms in the natural environment and the needs of future generations who may be harmed by environmental abuses.