Designing, producing, exhibiting, performing, writing, and publishing multimedia content including visual and performing arts and design, journalism, and entertainment services.
Convergent Media (Print, Broadcast, Digital, Interactive)
Convergent media is the interconnection of information and communication technologies, computer networks, and media content. This field prepares students for fields in production, journalism and multimedia-based work.
Visual Arts
The visual arts are art forms that create works which are primarily visual in nature, such as ceramics, drawing, painting, sculpture, architecture, printmaking, modern visual arts (photography, video, and filmmaking), design and crafts.
Advertising Art Director

Art Critic

Court Artist

Graphic Artist

Jewelry Designer

Logo Designer

Gallery Owner

Photographer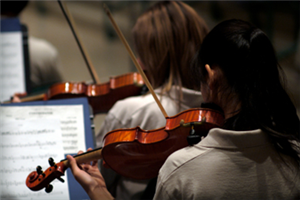 Performance Arts
Forms of creative activity that are performed in front of an audience, such as drama, music, and dance.
Musicians

Singers

Dancers

Actors

Choreographer

Stage Hand

Producer/Director