Return to Headlines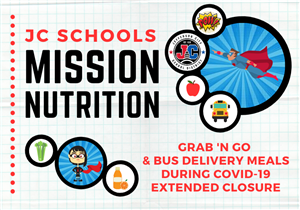 JC SCHOOLS MISSION NUTRITION
JC Schools is offering breakfast and lunch to students ages 2-18 through June 30th. There are two ways for students to get meals: Grab 'N Go/Drive-Thru meals at various school locations or at bus stops across the district.
Our public schools serve an important function for many families in our community beyond just educational learning - they are also sources of comfort, routine, support, and nutrition. We are keenly aware that our extended COVID-19 closure and virtual summer school will continue to have a significant impact on our families, and we are hopeful that the Mission Nutrition meal program will be beneficial to as many who need it!
MEAL PROGRAM DETAILS
Meals are available for all students, ages 2-18.

Buddy Packs for the weekend will be available on Fridays at all Grab'N'Go pick-up locations and at all meal delivery bus stops.
GRAB 'N GO MEALS
Grab'N'Go Meals will still be available for pick-up MON-FRI from 11:30AM-1:00PM at the six school locations (East, North, Pioneer Trail, and South elementary schools; and Lewis & Clark and Thomas Jefferson middle schools).

Please note: beginning June 1st Thorpe Gordon and West elementary schools have been moved from Grab 'N Go Meal location to bus stop deliveries (see below).
MEAL DELIVERIES @ BUS STOPS
First Student drivers will be delivering meals to stops all across the district at designated times between 10:00AM-1:00PM, MON-FRI.

Families can pick up meals at ANY bus stop, regardless of where your student attends school. Bus stops are not school specific, but rather designed regionally to include as many high-need areas as possible.

GO HERE TO VIEW INTERACTIVE MAP OF BUS STOPS provided by Veterans United.
This institution is an equal opportunity provider.