Return to Headlines
JC Schools Announces 2021 Eisinger Teacher of the Year Award Finalists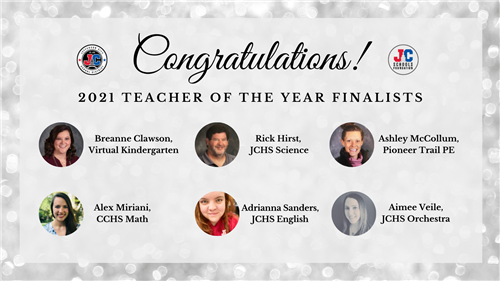 JEFFERSON CITY - The Jefferson City School District and Jefferson City Public Schools Foundation are excited to announce the six educators selected as the 2021 Eisinger Teacher of the Year award finalists.

The Teacher of the Year Selection Committee, composed of seven Jefferson City area community members, selects finalists based on written applications submitted in February. The Eisinger Teacher of the Year and Eisinger Outstanding Educator award recipients will be named and recognized during an awards ceremony on April 22 at the Miller Performing Arts Center.

"As we near the end of a challenging school year, we recognize that all of our JC Schools teachers have been going above and beyond. The Teacher of the Year program gives us another opportunity to celebrate some standout educators and show them our appreciation for everything they do for our schools and our students," said JC Schools Superintendent Dr. Larry Linthacum. "The Life Changing Educator awardees and the Teacher of the Year finalists embody the passion, perseverance, and heart that it takes to be a teacher today."

Don and Linda Eisinger established the Eisinger Teacher of the Year and Outstanding Educator awards in 2015 with plans to support the awards for a total of 15 years. New for 2021 is the Life Changing Educator Award, also established by the Eisingers. The Life Changing Educator Award was created in response to the COVID-19 global pandemic and school closures. The gift recognizes the importance of and need for in-person classroom teachers.

TEACHER OF THE YEAR FINALISTS
Breanne Clawson, JC Schools virtual kindergarten teacher
Breanne Clawson earned a bachelor of science degree in early childhood education from Central Methodist University in 2012. She went on to William Woods University, where she earned a master of education in education administration. Clawson started her teaching career at Bowling Green Elementary in Bowling Green, Missouri during the 2012-2013 school year. The next school year, she was a kindergarten teacher at Chance Elementary in Centralia, Missouri, and she taught there for five years. In 2019, she joined JC Schools as a kindergarten teacher at North Elementary. To meet the needs of virtual students in JC Schools, Breanne Clawson transitioned from her kindergarten classroom at North Elementary to a virtual kindergarten classroom for the 2020-2021 school year.
Rick Hirst, Jefferson City High School
Rick Hirst is in his 24th year of teaching at Jefferson City High School. Hirst holds a bachelor of science degree in biology from Iowa State University, a teaching certification from Lincoln University, and a masters of science in biology from Washington University in St. Louis. Since he began teaching at JCHS during the 1997-1998 school year, Hirst has taught sophomores, juniors, and seniors in a variety of science subjects. Currently, Hirst teaches Advanced Placement Biology, Astronomy I, and Astronomy II to juniors and seniors. Previously, he taught geology, chemical biology, chemistry, biology, human biology, and more. Hirst's former students or parents of former students have nominated him for the Teacher of the Year award 14 times since 2000.
Ashley McCollum, Pioneer Trail Elementary
For the past six years, Ashley McCollum has taught health and physical education at Pioneer Trail Elementary. She graduated from Lincoln University with a bachelor of science degree in education. McCollum has served the district as the elementary physical education lead teacher for the past two years. In addition to her role as the Pioneer Trail PE teacher, McCollum also tutors students, from kindergarten through eighth grade, in math, reading, and writing. She also works on building better relationships with her students by attending all school athletic practices and games, as well as other events, such as orchestra, theater, PAL League football, and YMCA basketball.
Alex Miriani, Capital City High School
Alex Miriani earned her bachelor of science degree in secondary math education from the University of Missouri and masters of education in educational leadership from William Woods University. Miriani started her teaching career at Simonsen Ninth Grade Center during the 2015-2016 school year and transitioned to Capital City High School when it opened for the 2019-2020 school year. She is currently the lead math teacher at CCHS and teaches three algebra subjects. Miriani also has experience with curriculum writing, working with another teacher during the summer of 2019 to rewrite the district curriculum for Algebra I, Algebra IA, and Algebra IB curriculum.
Adrianna Sanders, Jefferson City High School
An English teacher at Jefferson City High School, Adrianna Sanders earned her bachelor's degree in English and education from Lincoln University. Years ago, Sanders began her tenure at JCHS as a student teacher and obtained her substitute certificate before earning her teaching certificate to cover classes for a teacher who left mid-year. She now has five years of teaching experience at JCHS. There, she leads professional development training on teaching students affected by poverty, teaching students with behavioral problems, and teaching while giving grace, squashing grudges, and using the "quit taking it personally" method.
Aimee Veile, Jefferson City High School
Aimee Veile is an alumna of Jefferson City High School who, upon high school graduation, attended the University of Missouri-Columbia where she received her bachelor of music degree with a concentration in cello performance. After acquiring her masters of music education degree at the Boston Conservatory, Aimee became the director of secondary orchestras in Washington, Missouri. Then, she achieved her dream of coming home to give back to the school district and orchestra program in which she grew up. Veile was also a Teacher of the Year finalist in 2020.

LIFE CHANGING EDUCATORS
The first-ever Life Changing Educator Awards will go to Heather Tabb, Jefferson City High School mathematics teacher, and Zachary McKinney, JCHS English and drama teacher.

Tabb is a graduate of Truman State University, where she majored in mathematics and minored in Spanish, and she earned her master of arts in teaching from Missouri State University. Tabb has taught mathematics at JCHS since 2010. McKinney earned his bachelor of arts degree in secondary speech/theatre from Missouri Valley College in 2013. He has taught English and drama at JCHS for seven years.

For more information, contact Ashley Varner, Executive Director, Jefferson City Public Schools Foundation at 659-3549.