Return to Headlines
2018 Eisinger Teacher of the Year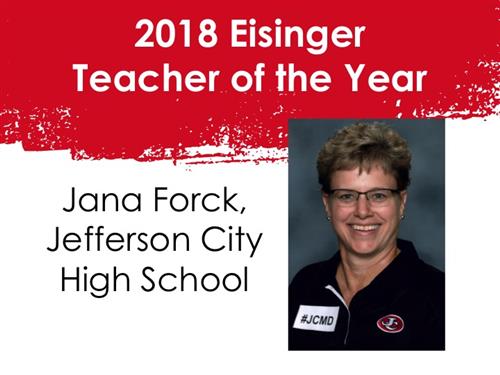 At the annual JCPS Teacher Appreciation Banquet, Jana Forck, a Mathematics and Project Lead the Way Engineering teacher at Jefferson City High School, was named the 2018 Eisinger Teacher of the Year. Jessica Long, a Kindergarten teacher at Cedar Hill Elementary, received the 2018 Eisinger Outstanding Educator Award.

Mrs. Forck has taught for 29 years, 28 of those are with JCPS. She received her Bachelor of Sciences in Education-Secondary Math from the University of Central Missouri in 1989, graduating summa cum laude. Mrs. Forck achieved her Masters in Education in Athletic Administration in 1994 and is a member of American Federation of Teachers, National Council of Teachers of Mathematics and Missouri Council of Teachers of Mathematics.

What influenced Forck to become a teacher? "Because of outstanding teachers and coaches I had in high school, I knew I wanted to become a teacher my freshman year of high school. I wanted the chance to make a difference and inspire young adults," Forck wrote in her application. "For me, relationships with students, parents and colleagues are the building blocks to success. I feel relationships are my key contribution as a teacher."

The Jefferson City Public Schools Teacher of the Year program began in 1991 and is part of the Missouri State Teacher of the Year Program. In 2016, the JCPS Foundation received an amazing gift to support the JCPS Teacher of the Year Program. Don and Linda Eisinger established the annual Eisinger Teacher of the Year and Eisinger Outstanding Educator awards. Because of Mrs. Eisinger's passion for teaching and her love of children, the Eisingers established this gift to support these awards for 15 years.

Mrs. Forck will now begin preparing her application for the 2018 Missouri Teacher of the Year contest. The winner of which will be named in June.

We asked Mrs. Forck her philosophy of teaching: "As a teacher, my goal is to inspire my students to reach their full potential. I want my students to feel welcome, cared for, and successful in my classroom."

Mission accomplished, as JCHS senior class student Nathan Erickson, who nominated Forck for the Teacher of the Year award states: "From daily greetings to seasonal candy, she looks for ways to make classes more interesting and engaging. She personally inspired me to become an engineer through personal discussions and real-life explanations in class."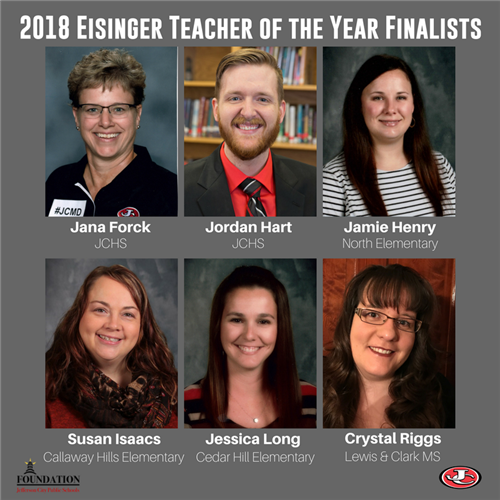 Join us in congratulating the six finalists for the 2018 Eisinger Teacher of the Year award: Jana Forck (JCHS, Mathematics), Jordan Hart (JCHS, English), Jamie Henry (North Elementary, Kindergarten), Susan Isaacs (Callaway Hills Elementary, 1st Grade), Jessica Long (Cedar Hill Elementary, Kindergarten) and Crystal Riggs (LCMS, Supplemental Math).