Return to Headlines
CCHS Logo & Staff Appointments
Message from Superintendent Larry Linthacum 11/20/2018:
Hello JCPS team & supporters,
In nine months we will open Capital City High School, and for the first time in the history of Jefferson City Public Schools our community will have two public high schools to serve our 9th -12th grade students. Construction at the site continues at an impressive pace, and our expectations are that the building will be "under roof" by the end of November, with structural steel and concrete complete. You can keep up with progress at the site at any time on the "Renovation & Construction Updates" page of our district website, where you can also see construction photos or view the Work Zone Cam. You can also now follow CCHS on Twitter at @CCHSCavs.
After engaging with community members and students to determine the name for Capital City High School, the colors of royal blue and silver, and the Cavaliers mascot, we spent the past several months working with Firehouse Design to finalize the new official Capital City High School logo, which I am excited to share with you today!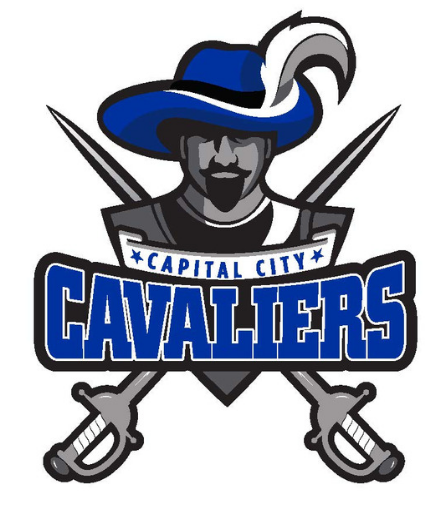 As we launch the new CCHS brand we will have usage guidelines for the proper way to use the logo, and we will ask that any group or person who wants to use the logo work with our district Communications Department (573-659-3018) to obtain permission and high-resolution artwork. In the near future, we will work to tighten all of our district brand standards at every level.
I am also happy to share the following CCHS administrative team staff appointments with you (you can read more about each of the CCHS leadership team members here):
· Ben Meldrum, Principal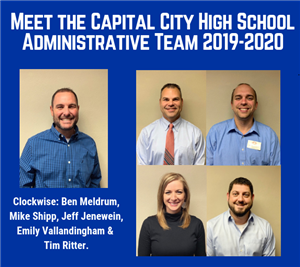 · Mike Shipp, Assistant Principal
· Jeff Jenewein, Assistant Principal
· Emily Vallandingham, Associate Principal of Curriculum & Instruction
· Tim Ritter, Counselor Director

This is an exciting time, having a second high school will undoubtedly help us raise the bar in so many ways. I look forward to continuing on this journey with all of you as we take this next step in our journey to become #JCStrongerTogether as a district and as a community.
Thanks for all you do to support our mission of giving every one of our students hope for a better tomorrow!
Superintendent Larry Linthacum