Return to Headlines
Summer School 2019 - Storm-Related Updates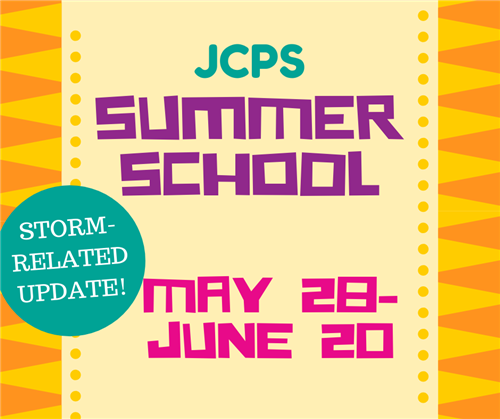 Although several district facilities sustained damage from the tornado earlier this week, we are pleased to report we will be able to move forward with having summer school begin on Tuesday, 5/28. While we recognize that many families have been impacted by this week's disaster, we are committed to providing a safe place for students to learn, gather, and have a balanced meal.

IMPORTANT UPDATES on LOCATIONS:
Because of the damage sustained at Simonsen, all 10-12 grade students will now attend summer school at Lewis & Clark Middle School instead. Please refer to the image below to see where student parking and parent drop-off will be located.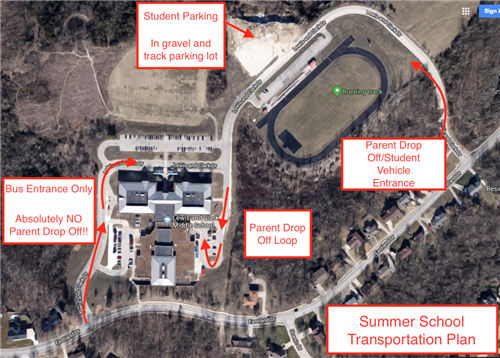 Jefferson City Public Schools has been hosting the Red Cross Shelter at Thomas Jefferson Middle School for families displaced by storm damage. We will continue doing so after summer school starts on Tuesday. Thankfully, we have enough space in the building to ensure the shelter accommodations will be separate from spaces being used by students to ensure a safe learning environment. Red Cross volunteers, members of law enforcement, and EMS teams will be on site at all times to provide assistance as needed for the shelter. We are thankful to be able to provide this service for members of our community during this challenging time.
IMPORTANT UPDATES on TRANSPORTATION:
There are many city streets closed down due to either storm damage or flooding, which is continuing to worsen. First Student will do their best to get to bus stop locations as close to the designated pick-up/drop-off time as possible. Please be patient as there may be minor delays due to drivers having to adjust their routes to get to students.

On Tuesday (5/28) and Wednesday (5/29), we ask that you please call your child's school with transportation-related questions and issues. Please wait 30 minutes after your student's expected afternoon drop-off time before calling. We'll be working hard to notify you within that 30 minutes, and this also avoids jamming the phone lines at First Student. Those notifications will come via phone call, email and text, and will also be listed in a "Bus Delay Update" post on our JCPS Facebook page.

There will not be numbers on the First Student buses. Please refer to the placard near the bus door that lists the bus route number (or remind your student to do so) to ensure your student is boarding the correct bus. You can always ask the driver if you're unsure.
SUMMER SCHOOL INFO (enrollment date, class and lunch schedules, attendance policies, etc.) for:
Week 1: Tuesday-Friday
Weeks 2, 3 & 4: Monday-Thursday