Return to Headlines
A Message from Superintendent Linthacum Regarding Equity
Hello JC Schools Staff & Families,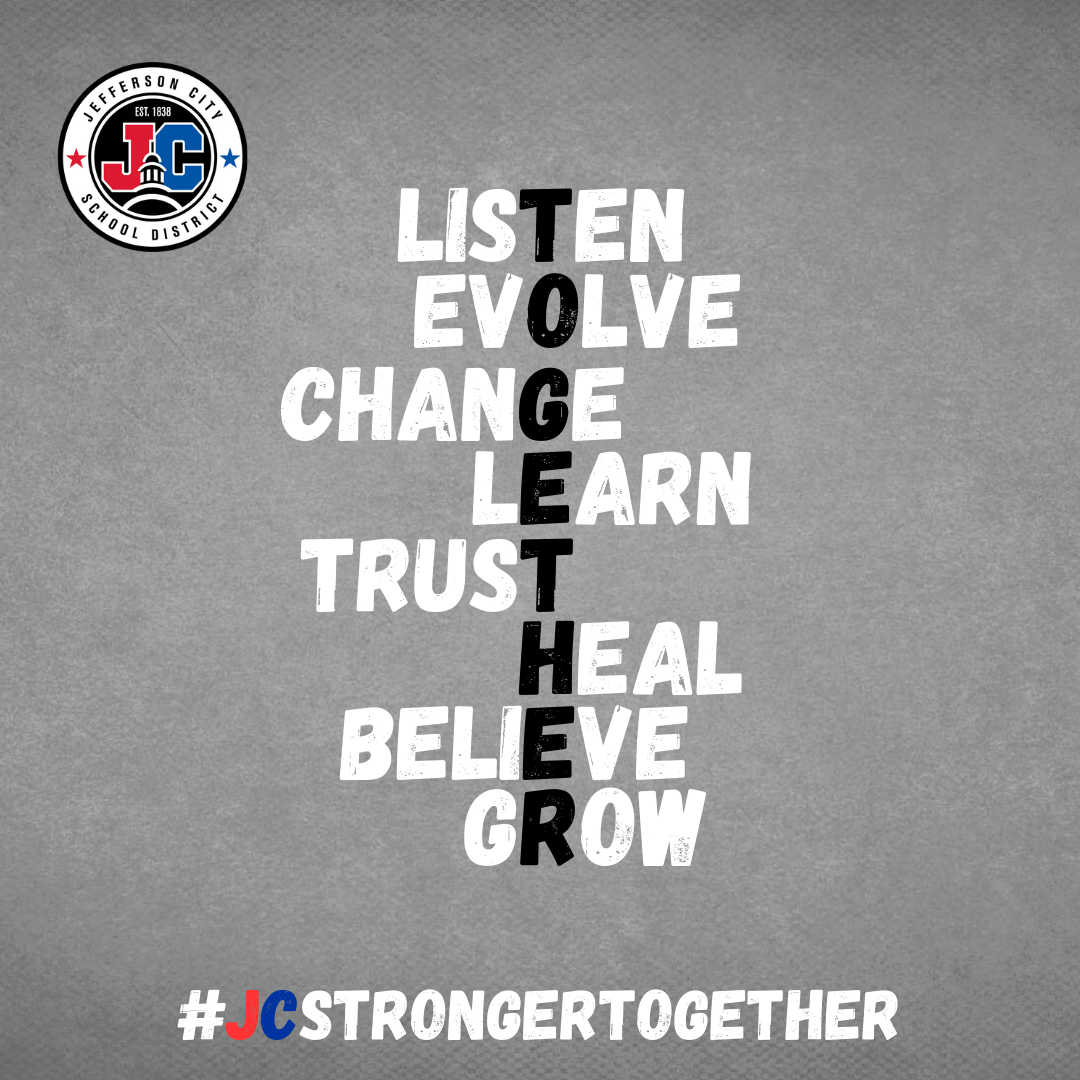 I wanted to take a moment to address the recent events which have left many of us reeling, and left me personally struggling to find the right words to console or uplift in this moment.
Our community and countless others across the nation have been dramatically impacted by the senseless killing of African Americans such as George Floyd, Breonna Taylor, and Ahmaud Arbery in recent months. We grieve these losses, and we are all searching for answers.
The Jefferson City School District is not immune to the systemic racism that has led to such events in cities and towns like our own. The types of oppression and disparities that are being highlighted across the country have no place in our society or our community. While we have made efforts to address diversity and inclusion issues in our district in recent years, there is still so much more work to be done.
These circumstances are incredibly hard for so many of us. We have taken time to observe, absorb, and reflect upon the frustrations that we all share because we wanted our response to be meaningful and impactful.
The gravity of these recent events and conversations warrant action, and we have identified several key areas of improvement for our district: hiring practices, professional development, and curriculum & instruction. We will continue to look for ways we can improve in these areas, and also bring these issues for discussion with the JC Schools Equity Council. It is critically important that we actively assess opportunities for the district to enhance our equity, diversity, and inclusion efforts.
In order to expand understanding and proceed with purpose through intentional action, I will engage in a series of listening sessions with people of color, including members of our staff, parents, students, and other community stakeholders in the weeks and months ahead. We seek to better understand the experiences of those who walk the hallways of our schools every day so we can find meaningful ways to improve in both the short and long term.
The Jefferson City School District will remain committed to improving the learning environment for our students, and to eliminating social injustice within our schools. We want every member of our staff and every student to feel loved, safe, and to have hope for a better tomorrow. Through collective efforts and a willingness to have tough conversations we can create meaningful change, and we will truly be stronger together.
Superintendent Dr. Larry Linthacum