Return to Headlines
Jefferson City Academic Center earns national character education award for two initiatives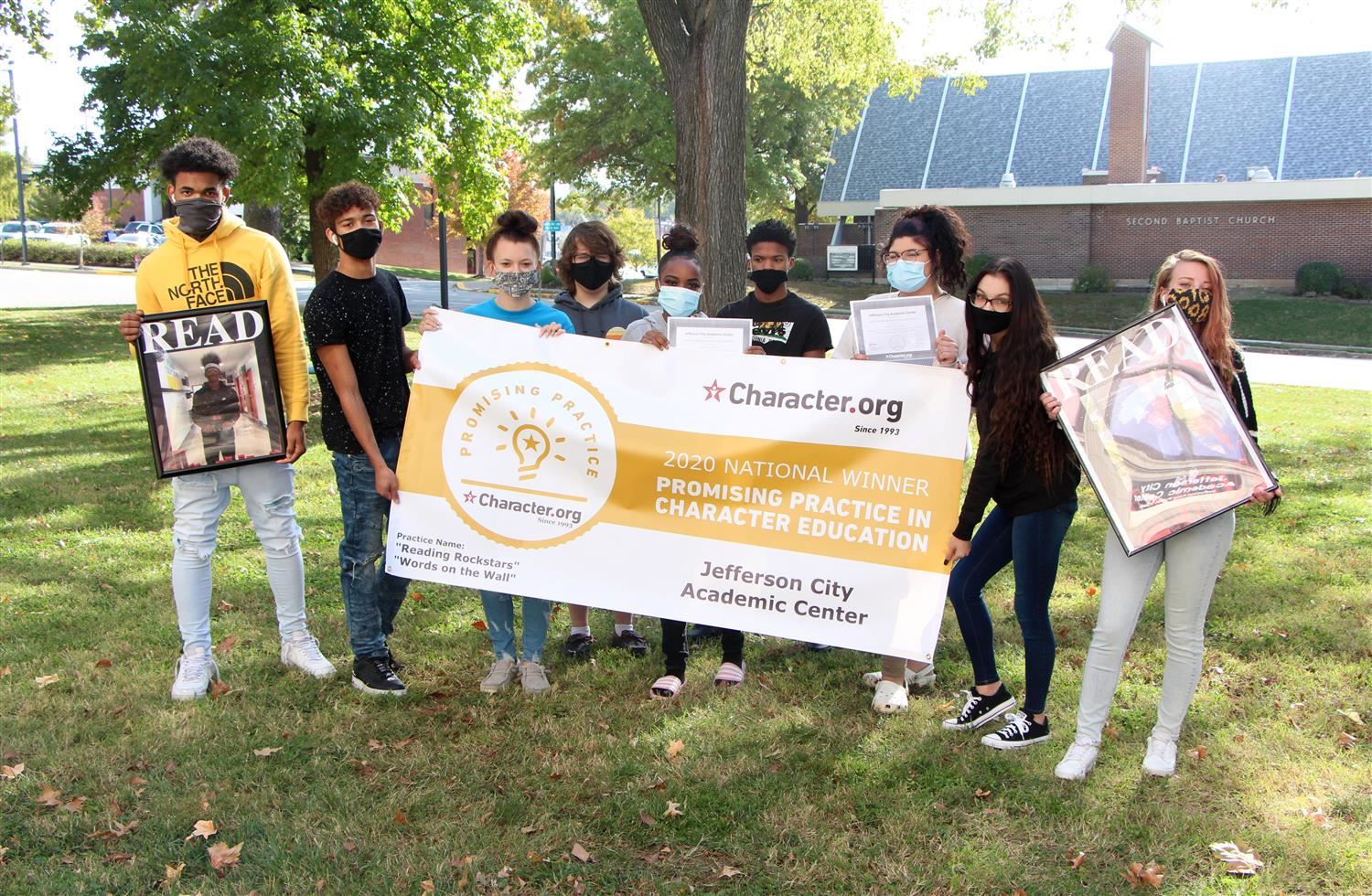 Jefferson City Academic Center earns national character education award for two initiatives
JCAC has received the honor for a total of 14 initiatives since 2011

JEFFERSON CITY - The Jefferson City Academic Center (JCAC) has been recognized for two of its character education initiatives by Character.org, a national organization devoted to fostering character development in schools and communities.

Every year, Character.org recognizes Promising Practices, which are specific school or organization-based initiatives that are significant examples of effective character development and aligned with one or more of the organization's 11 Principles framework.

JCAC has been recognized for 14 of its Promising Practices since 2011.

"JCAC continues to be a shining example of character education not only for our Jefferson City community but also for our country," JC Schools Superintendent Dr. Larry Linthacum said. "Congratulations to JCAC on this tremendous honor and a history of character education excellence."

"We are proud to be nationally recognized again as a model of character education, and share our initiatives in the hopes that they will benefit other schools," JCAC Principal Justin Browning said. "JCAC would not have its longstanding history of character education excellence without our amazing teachers, staff, and most importantly, students who are invested in these initiatives. They set the bar high every year, and their efforts have led to more and more student success."

Among the 264 Promising Practices recognized nationwide, Jefferson City Academic Center was honored by Character.org for two of its Promising Practices: its Reading Rockstars and Words on the Wall initiatives.

Started during the 2019-2020 school year, the Reading Rockstars initiative is a poster campaign that encourages preschool and elementary children to read. JCAC students select a favorite book, a place where they would like to be photographed, and props they want to include that reflect their personality and interests. The photos are used for posters that the JCAC students deliver to elementary classrooms and Little Explorers Daycare, where they volunteer. The posters are on display as visual reminders for younger students to become life-long readers.

Character.org recognized JCAC's Reading Rockstars initiative as a Promising Practice because it exemplifies the organization's seventh principle: "the school fosters students' self-motivation."

One of JCAC's in-school service projects, the Words on the Wall initiative is a positive motivation tool for all students. Every month, JCAC students and staff come up with a new theme for the bulletin board in the school's cafeteria. The themes are designed to inspire students to look toward their future. Past themes have included: what are your goals, what inspires you, what's your "pot of gold" (or, what are you thankful for), and what's your word for the new year.

Character.org's Promising Practices program gives JCAC an opportunity to showcase its character education initiatives and be a model of character education for other schools throughout the country.

JCAC-Middle, Lewis & Clark Middle School, and Southwest Early Childhood Center are also past recipients of Character.org's Promising Practices awards.