Return to Headlines
JC Schools Students Show Tremendous Academic Growth in 2020-2021 School Year Despite COVID-19 Challenges
District iReady scores exceed those of other in-seat districts across the nation; Graduation rate second highest in last 30 years
JEFFERSON CITY – On August 20th at the district's annual all-staff back to school event, the Jefferson City School District (JC Schools) announced that JC Schools student academic achievement results have grown considerably in several areas despite the many challenges faced during the COVID-19 pandemic.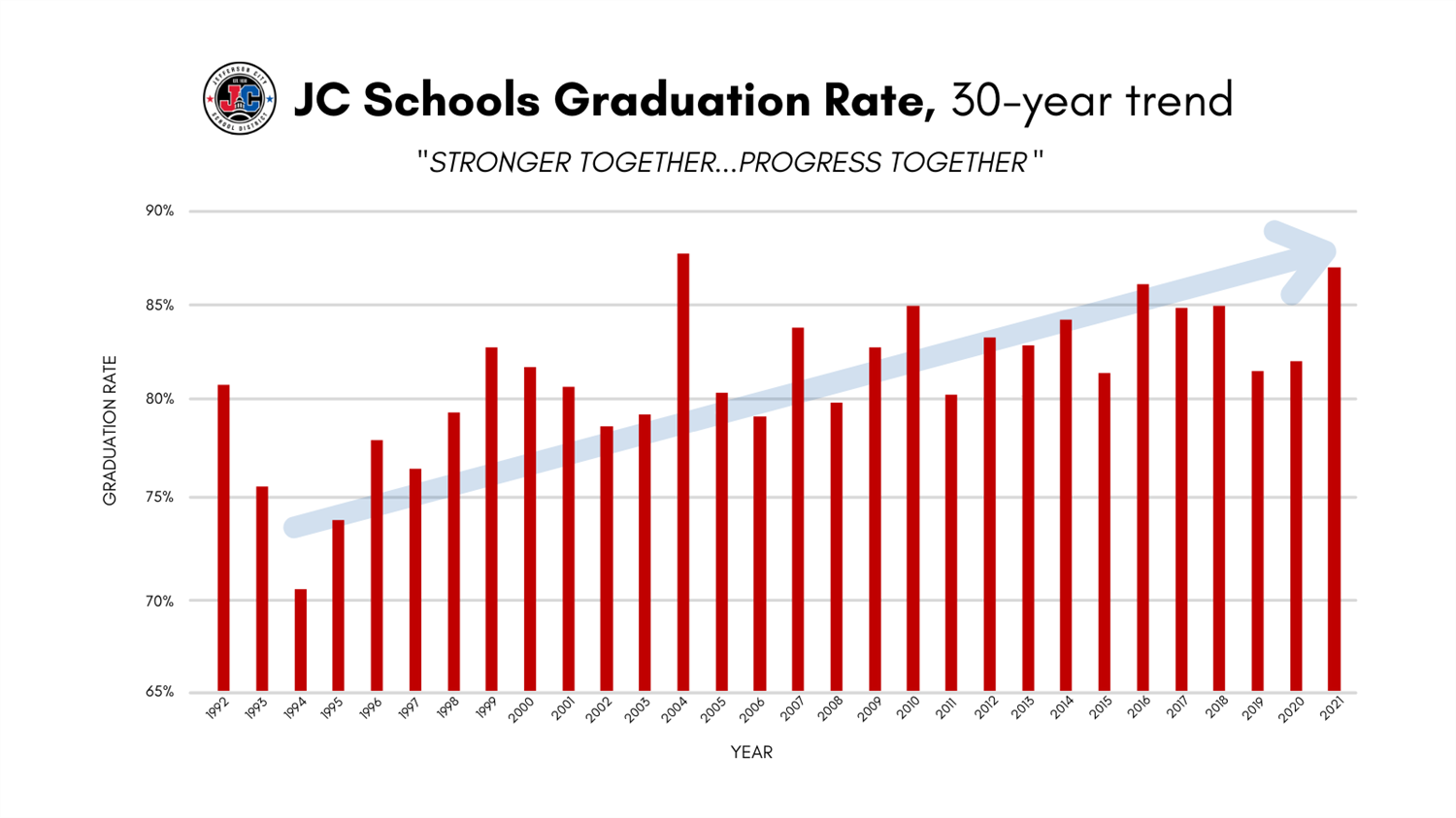 The district uses i-Ready, an adaptive assessment given to students three times a year, to evaluate growth and performance in the areas of reading and math. According to 2020-2021 national iReady results, the number of JC Schools students performing at or above grade level in both reading and math is higher than schools across the nation that were also in-seat for the 20-21 school year.* The district has shown continual growth in the number of students reading at/above grade level since we began using the iReady assessment.
The district's graduation rate for the 2021 school year was 86.6, which is the highest graduation rate for the district in the last 18 years (since 2004) and the second highest in the last 30 years (since 1991).**
"I am incredibly proud to stand here today in front of you, our teachers and JC Schools team members, to tell you personally that your tremendous efforts last year, when faced with all of the challenges of a global pandemic, are making a difference in the lives of our students," JC Schools Superintendent Dr. Larry Linthacum said when addressing district staff. "The academic growth being shown by our students would be impressive in any year, but it is even more notable given the year we had while juggling COVID-19 protocols. Your commitment to our students, and to ensuring they can learn in an environment where they can thrive and grow, is truly commendable."
"Do you realize how important you are to kids like me?" said JC Schools Sixth Grade Student Isabel Duren when addressing district staff. "You lift us up when we are having a hard day, when we are having the blues. When we are hungry, when we are tired, when we are frustrated, when we are broken -- you inspire us and carry us through. You are our heroes, our believers, our cheerleaders, and you hold the keys to our future. Thank you so much for caring for and believing in the students in our district!"
The 2021-2022 school year begins on Monday, August 23rd for the Jefferson City School District. The district typically has an enrollment of approximately 8,500 students, and there are approximately 1,500 full and part-time staff members. The district includes one pre-K early childhood center, 11 elementary schools, two middle schools, two high schools, an alternative school, and a career center. Learn more at jcschools.us.
*According to iReady's end of year report, 59 percent of JC Schools students scored at or above grade level in reading, compared to 51 percent nationally. Fifty percent of JC Schools students scored at or above grade level in math, compared to 46 percent nationally.