Return to Headlines
Jefferson City School District announces exceptional progress among Nichols Career Center students
JEFFERSON CITY - The Jefferson City School District announced today that Nichols Career Center has shown exceptional progress in multiple measurements of student success, according to its latest data from the Missouri Department of Secondary and Elementary Education (DESE).

DESE manages the Missouri Comprehensive Data System, which is designed to provide the public with easily-accessible information and data on career and technical education (CTE) programs in the state. Nichols Career Center (NCC) met every single indicator measured for 2021. This is the first time since 2015 that NCC has met every indicator and the second time it has done so in the past 14 years when the data was first collected.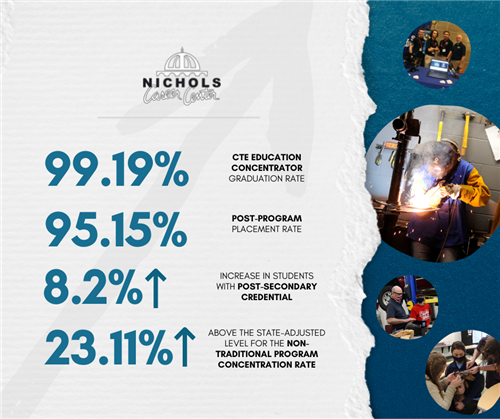 The 2021 data for NCC shows dramatic increases in the following key areas:
Career and technical education concentrator graduation rate, which measures the number of students who have completed at least two CTE courses in a single career pathway and graduated from high school. The NCC CTE concentrator graduation rate was an astounding 99.19 percent. This is 8.19 percent higher than the state-adjusted performance level and the second highest CTE concentrator graduation rate since the data was first collected 14 years ago.
Post-program placement rate, which measures the percentage of students who, after the second quarter of graduating or leaving a CTE program, are in a job, post-secondary education, advanced training, military service, or certain volunteer/service programs. NCC recorded a 95.15 percent post-program placement rate. That rate is 25.15 percent higher than the state-adjusted performance level.
Nichols Career Center saw an 8.2 percent increase in students who attained an industry recognized post-secondary credential (IRC). All NCC programs offer students the opportunity to earn IRCs. Depending on their field of choice, students can attain an IRC from one of 11 different organizations, including the American Culinary Federation, American Welding Society, and the Building Performance Institute Inc.
Non-traditional program concentration rate, which measures the percentage of NCC students concentrating in a CTE program that leads to non-traditional fields for their particular gender. A student is counted under this indicator if individuals from their gender comprise less than 25 percent of the individuals employed in the related occupation or field of work. For NCC, its non-traditional program concentration rate is 23.11 percent above the state-adjusted performance level.
"The Nichols Career Center staff and students deserve our congratulations for the extraordinary growth they've made, especially while navigating the challenges of the COVID-19 pandemic," JC Schools Superintendent Dr. Larry Linthacum said. "I want to thank the Nichols Career Center staff for their commitment to ensuring students in JC Schools and throughout our community leave us college and career ready."

"Our Nichols Career Center team works hard every day to ensure our career-and-technical education students are prepared for whatever path they take in life," Cody Bashore, director of Nichols Career Center, said. "The most-recent data shows that the dedication of our staff and students to career and technical education is paying off. Our business and industry partners have communicated to us loud and clear that they need employees that have those soft skills that not only make them great workers, but good employees. This is why the past few years we have made teaching employability skills one of our top priorities for our students, and our data is reflective of that effort. "

"Nichols Career Center takes pride in providing its students with an exceptional education in the career and technical arts," Gary Verslues, JC Schools assistant superintendent of secondary education, said. "The data is proof of what we've known for so long — Nichols Career Center gives students incredible opportunities for better futures."

###