JC Schools: All Things Awesome
Q&A with Becky Turner, JCHS Engineering Teacher
Posted by Brittany Ruess on 11/13/2020 12:30:00 PM
JCHS students in the Project Lead the Way (PLTW) Engineering Design and Development class recently presented their capstone projects to JCHS teachers and administrators. In honor of National STEAM Day, we're highlighting the JCHS PLTW class, which is preparing students to succeed in the engineering field.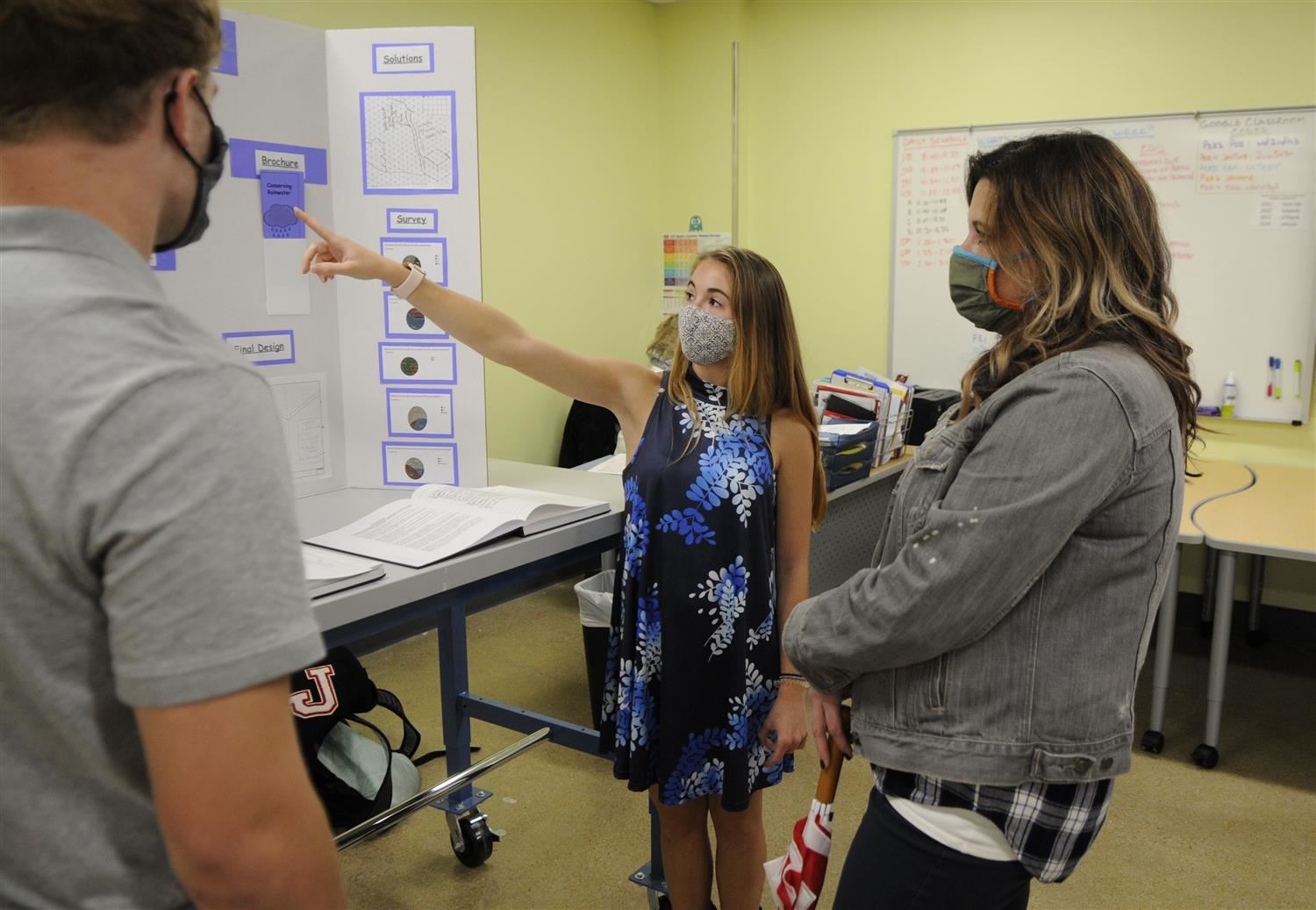 Interested in pursuing engineering, these students started their path on PLTW Engineering as freshmen. Now, as seniors, they're working on taking a project "from the early stages of brainstorming all the way to constructing and testing a viable product," said Becky Turner, teacher of PLTW Engineering. The students' project ranged from water conservation and filtration for reuse in the home to a video game controller adapted for individuals with disabilities or amputated arms. These students had such smart and creative ideas on how to use engineering and technology to make our lives and our world better!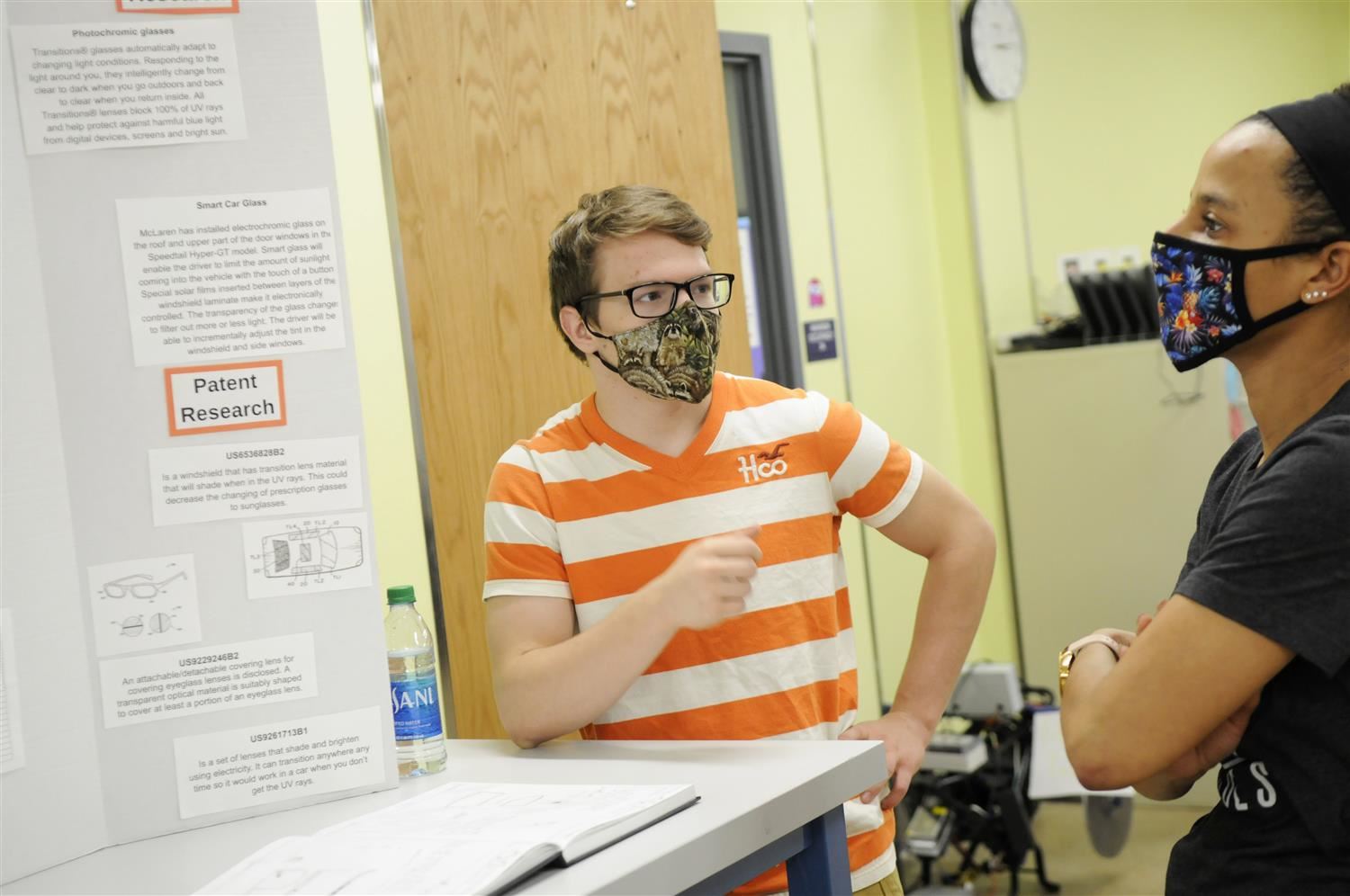 Learn more about the class and the importance of PLTW Engineering in this Q&A with Ms. Becky Turner:
Q: What was a recent assignment for your PLTW Engineering Design and Development class?
A: A capstone course for Project Lead the Way Engineering. Students take a project from the early stages of brainstorming all the way to constructing and testing a viable product. At this time, the students have finished brainstorming for ideas, chosen teams to work with, and done research in several areas related to the project. Students have created a problem statement, and completed market research to see if there is a justifiable need for their project and have come up with a solution to meet the needs of the "problem". This presentation is to show others what they have accomplished to this point and to show where they are headed in the next phase (constructing and testing the prototype).

Q: How does your Engineering Design and Development class help students prepare for careers in engineering?
A: Students experience the entire design process from defining a problem, to generating concepts, to building a prototype and testing their design. They will face many obstacles and have to modify and redesign to create the desired product that will alleviate the "problem" they came up with. They are definitely experiencing engineering at its finest. As they finalize their chosen fields of study, they will still have a lot to learn, but the design process does not really change.
Q: Have past students gone into engineering fields?
A: This is my second year teaching the capstone course, but out of the 10 students who completed the course last year, all but 2 (I think) went on to an engineering field. This year, I have 12 students and, as of last week, all are planning to go into engineering fields, though a few are undecided as to which field to study.
Q: What do you love about teaching PLTW engineering?
A: PLTW courses are a bit different from traditional classes such as math. I become more of a facilitator for learning and have fewer actual lessons to deliver than in an Algebra II class. Most of the learning is hands-on for the upper level PLTW courses (Civil Engineering and Architecture, and EDD), but the lower levels (Introduction to Engineering Design and Principles of Engineering) require a bit more teacher guidance for the students, with a healthy mix of hands-on activities and projects.