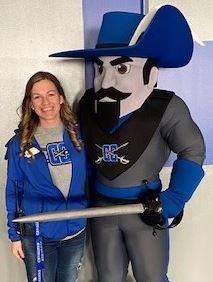 Hello!

2022-2023 marks year 10 at Jefferson City School District! Prior to coming to Capital City during its inaugural year, I taught Health and IED at Simonsen 9th Grade Center.

Before coming (back) to Jefferson City, I coached softball at Lindenwood University, where I also attended and played softball from 2007-2012. Originally Aubrey Moss, I was born and raised in Jefferson City.

I am now teaching IED & POE while also working as an Assistant Activities Director during the afternoon portion of the day.

Go Cavs Go!
2022 - 2023 Schedule:

1st: Introduction to Engineering (IED)

2nd: Principles of Engineering (POE)

3rd: Cavalier Time

4th: Plan Time

5th - 7th: Assistant Activities Director
PLTW Engineering (IED & POE)

Assistant Activities Director

Aubrey.Allen@jcschools.us

Long Term Sub: Jana Forck

PLTW Engineering (IED & POE)
PLTW courses are eligible for college credit! See link for requirements and forms.

Click here to access all PLTW curriculum, activities, notes, etc. We will access this every other day at minimum!

For CCHS Activities schedules, results, pictures and more!
Last Modified on August 17, 2022