We Live United #JCStrong
Automated Attendance Call Feature - Details Here
---
This Week at a Glance:
9/26/18 - Early Release Day
9/26 - 10/5/18 - Homecoming ticket sales (see info below)
---
HOMECOMING WEEK : OCT 1 - OCT 5
"JAYS THROUGH THE DECADES"
Wed, Oct. 3rd: Powder Puff Game 6:00p.m. ($3 admission)
Bonfire (Queen announced) 8:15p.m.
Thurs, Oct. 4th: Parade 6:30p.m.
Pep Rally 7:30p.m.
Fri, Oct. 5th: Football Game 7:00p.m.
Sat, Oct. 6th: Homecoming Dance 8:00-11:00p.m.
---
Info for Homecoming Tickets
Tickets are on sale before school and during all lunch shifts from Sept 26 - Oct. 5th. The LAST CHANCE to purchase a ticket is 1:30 Fri, Oct. 5th
Tickets are $7 each
All NON-JCPS students must have a guest form filled out and approved before you can purchase a guest ticket. Forms can be found in any admin office and must be turned in before 3:00 on Oct. 4th
All fines/fees must be paid before you can purchase a ticket
All detentions must be served before you can purchase a ticket
Attendance MUST be at 90% to attend the dance.
---
Important Yearbook Information:
Don't forget to order your 2018-2019 yearbook! Cost is only $60. You can order online at www.yearbookordercenter.com. Or pick up a form in the JCHS main office.
Did you forget to buy your yearbook last school year (2017-2018)? There are still a few available for $60. See Ms. Wittman in Nichols Room 268 before school.
---
WAYS TO STAY CONNECTED:
Parents and Students are encouraged to check out the following sources for staying up-to-date throughout the school year.
GOOGLE CLASSROOMS

: Each grade has a specific google classroom to join.

Students:

ask your FAST teacher or your counselor for the code for your grade.

Parents:

make sure your student joins their classroom! It will have grade-specific information (important dates, things they should be doing, things they won't want to miss out on, etc).
---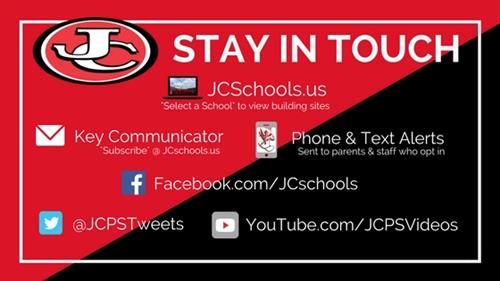 ---