JC Schools: All Things Awesome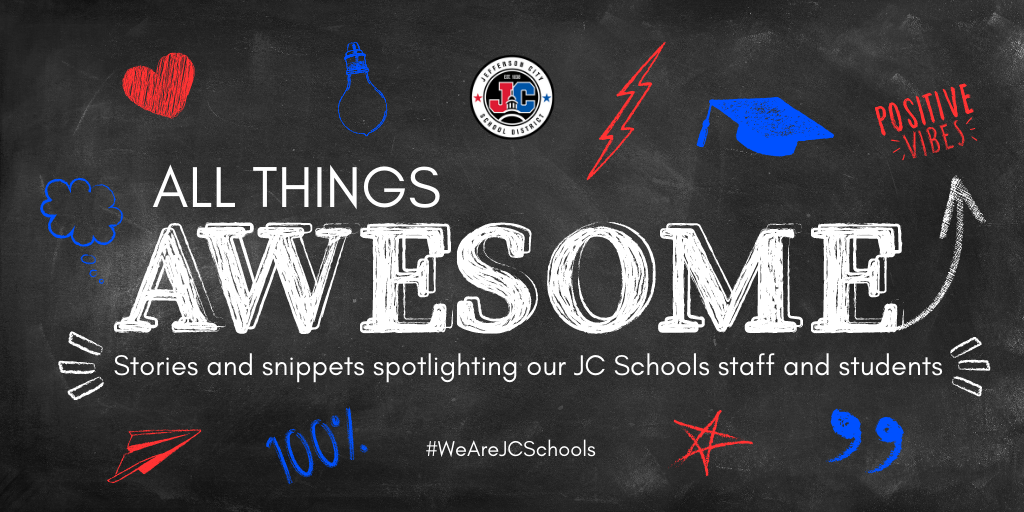 GET TO KNOW: 2021 Eisinger Teacher of the Year Finalists

Posted by

Brittany Ruess

on

4/21/2021 9:45:00 AM

Learn more about each of the 2021 Eisinger Teacher of the Year finalists by checking out the videos below!

BREANNE CLAWSON, virtual kindergarten teacher

RICK HIRST, JCHS science teacher

ASHLEY MCCOLLUM, Pioneer Trail PE teacher

ALEX MIRIANI, CCHS math teacher

ADRIANNA SANDERS, JCHS English teacher

AIMEE VEILE, JCHS orchestra teacher

Gidster Reviews: Q&A with LCMS student Gideon Duren

Posted by

Brittany Ruess

on

3/10/2021 2:30:00 PM

For more than a year, Gideon Duren has shared his love for reading through his YouTube page, "Gidster Reviews," where he critiques books -- without spoiling the story! A student at LCMS, Gideon talks about some of his favorite books in his videos. As he says in his "About" section: "I hope to share my love of books with others so more kids like me can enjoy reading as much as I do!"

In celebration of #JCReads Week, we sent Gideon seven questions to learn more about him, Gidster Reviews, his love of reading, and his book recommendations. See the Q&A below or click through the images to see what Gideon had to say!

----

Q&A with Gideon Duren (Gidster Reviews)

1.Where does your love for reading come from? How did it start for you?

I guess my love of reading started about 3rd grade. Before then, I thought reading was boring but I started listening to audiobooks and finding more creative stories. I found myself hooked on books.

2. What was the first book, or a book, you remember that you couldn't put down? Why was it a page turner for you?

I can't really remember the first book I couldn't put down because honestly, most books I read are like that. I'm always wondering what happens next!

3. What was the inspiration for Gidster Reviews?

I thought it would be a great idea to share books that I like with others. Sometimes it's hard to find a good book and find out if you are interested in it. I hope Gidster Reviews helps people discover books that they might enjoy.

4. What do you enjoy most about reviewing books?

I love books and I love helping people get into reading. Sometimes as a bonus, the author reaches out and communicates with me and that is pretty awesome.

5. This might be a tough question for you, but...you've read hundreds and hundreds of books. What books are in your top five and why?

- The Unwanteds by Lisa McMann is one of the first books that really caught my attention. I still admire the superb character development and storyline.

- Five Kingdoms are full of magic, adventure, action, and intriguing characters. Brandon Mull is a genius. You won't regret reading his books.

- The Book Thief by Markus Zusak. Set in Nazi Germany, is a hard but life-changing read and will probably always be one of my favorites.

- Ground Zero Any book by Alan Gratz is amazing but his new release, Ground Zero, was especially good.

- Artemis Fowl I am currently re-reading the Artemis Fowl series by Eoin Colfer. I love the aspects of the modern world and fantasy put together in one saga of books. Reading a book series is my favorite.

6. What would you say to kids to get them interested in reading?

Reading a book is like visiting different worlds, times and places. In a book you can imagine the story the way you want and experience it at your own pace. If you have a hard time reading big books, try audiobooks. If you don't know what you like, don't worry! There are books about literally every subject you can think of. Once you are hooked on a book don't rush and hurry through it, enjoy the experience and take your time.

7. What do you want people to know about you, Gidster Reviews, or your love of reading?

I like lots of things. I play sports, I'm a gamer and I participate in theater. I'm a boy scout. I also play piano and sing in a choir but reading has a special place in my heart. It not only develops my vocabulary but it also expands my mind and teaches me to view the world through other people's eyes. Reading has made me more grateful for things that are usually taken for granted and makes me want to change this world for the better. You can find @GidsterReviews on Twitter, Instagram and YouTube.

Moreau Heights teacher, Alecia Trusty, recognized as one of Missouri's best beginning teachers

Posted by

Brittany Ruess

on

3/10/2021 2:00:00 PM

Congratulations to Alecia Trusty, third-grade teacher at Moreau Heights Elementary, on being recognized as one of Missouri's Outstanding Beginning Teachers by the Missouri Association of Colleges for Teacher Education!

Colleges and universities that are also members of MACTE can only nominate up to two first- or second-year teachers for the award. Alecia's alma mater, the University of Missouri, nominated her for the award -- complete with a recommendation letter from Moreau Heights Principal Sue Haugen.

Alecia, her class, Sue Haugen, and Assistant Principal Dr. Dawn Day celebrated Alecia's award on Tuesday during the virtual MACTE spring conference. When asked why she's a great teacher, Alecia's students said she's a hard worker and she's caring. They also said:

"She's very kind."

"I feel like she tries to make learning fun."

"She can help me calm down better."

We are so lucky to have Alecia on the Moreau Heights and JC Schools teams!

Jefferson City School District celebrates #JCReads Week March 8th-12th, 2021

Posted by

Brittany Ruess

on

3/8/2021 7:00:00 AM

JEFFERSON CITY - To coincide with "Missouri School Read-In Day," designated by the State of Missouri as the second Friday in March every year, the Jefferson City School District is celebrating #JCReads Week.


The annual weeklong event is designed to increase awareness of the importance and benefits of reading. #JCReads Week highlights the district's continued efforts to encourage and create a greater emphasis on reading, both in the school and at home, as well as in and about the greater Jefferson City community. The district-wide theme this year is "Open New Frontiers with Reading." A district-wide theme week has been planned for all schools to participate.


"Strong reading skills create a strong foundation for learning in all subjects. With #JCReads Week, we are showing our students the importance of reading, developing their reading skills at an early age, and encouraging them to be lifelong readers," said JC Schools Superintendent Dr. Larry Linthacum. "The #JCReads Week activities support our district's goal of 100 percent of our students reading at or above grade level."


Due to COVID-19, schools are welcoming guest readers to read to classes virtually this week. The #JCReads Committee has also worked with notable members of the Jefferson City community to capture videos of them reading that will be shared with students. All videos of the guest readers will be shared on the JC Schools social media for families to enjoy at home. Those guest readers are: Jefferson City Mayor Carrie Tergin; Nathan Hays with Jefferson City Autoplex; Tonya Ellis, JC Schools Coordinator of Library & Instructional Technology Services; Lauren, radio host of the Y107 Morning Show; and Cosmo, radio host of the Y107 Morning Show.


JC Schools is encouraging its schools to set aside time in the week for all students in the building to read. The district also hopes individuals, families, and other groups across the Jefferson City community will participate along with the district on Friday, March 12th at 9:30 a.m. for "Drop Everything and Read" (D.E.A.R.) Day.


School-wide reading programs can help change a student's attitude about reading, while also encouraging student collaboration. Along with the State of Missouri, JC Schools recognizes that reading proficiency is a major factor in determining a child's success in school, regardless of the socioeconomic status, race, ethnic background, or educational level of the child and the child's family.

JC Schools Foundation Announces Selection of 2021 Grant Awards

Posted by

Brittany Ruess

on

3/4/2021

FOR IMMEDIATE RELEASE

For more information, Ashley Varner, Executive Director, Jefferson City Public Schools Foundation, (573) 659-3549

March 4, 2021

JC Schools Foundation Announces Selection of 2021 Grant Awards

The JC Schools Foundation today announced that it has awarded more than $11,000 in grants to seven different educational programs in the Jefferson City School District. The Foundation awarded grants to teachers and schools at the elementary, middle, and high school levels for projects and/or equipment to support students in math, literacy and reading, leadership development, and more.

CALLAWAY HILLS ELEMENTARY received a SCHOOL GRANT funded by the families of Dorothy Williams, Bobbie Howard, and Joyce Kaiser in the amount of $1,340. This grant was awarded to Malissa Pistel for the Math Matters curriculum.

Math Matters will support the effective implementation of Math Workshop at Callaway Hills to increase scores for the iReady testing and Missouri Assessment Program (MAP). It will provide opportunities for differentiation and intervention, and supports independent work that engages students in meaningful, and enjoyable practice.

BELAIR ELEMENTARY received a SCHOOL GRANT funded by the family of Shirley Patrick in the amount of $1,332. This grant was awarded to Niki Carel and Elizabeth Milhollin for a Swivl device.

The awarded Swivl Device gives Belair students and staff the ability to provide and have access to quality instruction while in-seat or not. With the Swivl video-recording system, teachers can record themselves and their students during a lesson. The lesson can be shared with students and teachers and can be used as a self-reflection tool.

CEDAR HILL ELEMENTARY received a SCHOOL GRANT funded by the families of Karen and Rick Thom and Bobbie Howard in the amount of $1,547.59. This grant was awarded to Amber Craighead for Diving Deeper with Comprehension.

In Cedar Hill's Improvement Plan for this year, its goal is to increase student achievement in reading. Receiving these short story books and articles with engaging content will help teachers expand their students' strategies to comprehend a challenging text.

NORTH ELEMENTARY received a SCHOOL GRANT funded by the JC Schools Foundation and the family of Julie Finley in the amount of $3,400. This grant was awarded to North Elementary Principal Brandi Benz for the Growing Leaders through the Leader in Me program.

North Elementary will be able to continue the implementation Leader in Me — a whole school transformation process from Franklin Covey Education. It teaches 21st century leadership and life skills to students and creates a culture of student empowerment based on the idea that every child can be a leader.

LEWIS & CLARK MIDDLE SCHOOL received a SCHOOL GRANT funded by the JC Schools Foundation and the family of Julie Finley in the amount of $3,400. This grant was awarded to Jessica Smith and Erin Gehlert for Classroom Libraries.

The new book additions to classroom libraries will support the independent portion of the reading workshop and directly support life-long readers' development in the reading classrooms at Lewis & Clark Middle School.

JEFFERSON CITY HIGH SCHOOL received a TEACHER GRANT funded by the family of Bobbie Howard in the amount of $124.95. This grant was awarded to Heather Tabb for a Webcam for virtual Instruction and learning.

The school closure last spring accelerated the learning curve, and Tabb began to regularly record lessons for her students to study safely at home. The web camera will allow voice and video recording capabilities for an interactive experience.

CAPITAL CITY HIGH SCHOOL received a TEACHER GRANT funded by the family of Michelle Ruth in the amount of $404.48. This grant was awarded to Danielle Madsen for the Learning through Labs (AP Stats) supplies.

Danielle learned our district's textbooks fit well with the Stats Medic approach where students are able to complete parts to learn the majority of the statistical concepts instead of the traditional method of lecture/direct instruction. These lab supplies will be necessary to implement these labs in the classroom.

Every year, teachers can request a grant for up to $500 for their classrooms and schools can request a grant for up to $5,000 to benefit the entire school. The school principal first approves and signs off on the grant applications before heading to the JC Schools Foundation. From there, the JC Schools Foundation Programs Committee meets to review the grant applications and select which applications to fund. Many grant applications requested funds for individual classroom needs, and many applications were also literacy based. The JC Schools Foundation uses donations provided by individuals, businesses, and corporations to fund its grant programs. The Foundation's grant program is primarily funded through individual memorial funds that the Foundation manages.

The JC Schools Foundation's mission is to build endowments to perpetuate funds for excellence in education, involve the community in support of quality education, and obtain contributions to facilitate student achievement. The Foundation would like to expand their grant distribution cycle from once each year to twice each year. If you are interested in supporting the Foundation's grant processes with a gift, please contact Ashley Varner at 659-3549.

Check presentations to each teacher or building principal were made on March 3.

Hermon Mehari finds international success as jazz trumpeter

Posted by

Brittany Ruess

on

2/28/2021 5:00:00 PM

Hermon Mehari doesn't remember exactly why chose to play the trumpet as a seventh grader joining the band at Thomas Jefferson Middle School. He jokes that he probably picked it because he could make sound come out of it. With a laugh, he says that maybe someday he'll come up with some inspiring anecdote about how he and the trumpet came to be. But for now, we'll just settle on that it was fate.

His discovery of jazz trumpet, which would one day become his musical niche, passion, and career, is much more clear. In the summer before eighth grade, Hermon took a summer enrichment class on improvisation -- one of the strongest components of jazz. The power of improv was not lost on the middle schooler.

"Wow, you can make music in the moment," Hermon says, recalling his introduction to improv. "It's so personal and beautiful."

As his interest in jazz music deepened, eighth-grade Hermon wanted to hear more. He went to the jazz section of Hastings Entertainment Superstore, formerly on Missouri Boulevard, and found the numerous albums by jazz icon Miles Davis. Knowing Miles Davis played trumpet, Hermon picked one of his albums at random.

The album was Kind of Blue, which is known as one of the most important jazz albums of all time.

"So, I just kind of happened to stumble upon this, and then I listened to it over and over again. This is amazing," Hermon says. "From then on, I wanted to try and do what he was doing, which was improvise and make incredible music. That's the simple way to put it, of course."

Today, Hermon lives in Paris. When a global pandemic isn't putting gatherings on pause, he's playing his music and collaborating with other musicians throughout the city and France. However, the COVID-19 pandemic did give Hermon the opportunity -- through an abundance of time -- to create his sophomore album, A Change for the Dreamlike.

Hermon was in southwest France, staying in a friend of a friend's house on a beautiful river valley, when the country went into its first confinement period throughout March and April.

"Maybe the most beautiful thing about this album, in my opinion, is that it was totally unexpected. But then again, what happened this last year was unexpected, at least to the precedent of what it became."

In this album, Hermon takes a more personal tone. As described on his website: "The songs are played like personal journal entries, versions and visions of wishes, fantasies, and memories. Together they create a kind of modern mixtape of dreams, in every sense of the word, in which the trumpet is a vulnerable presence."

As a musician, the pandemic came with certain unknowns for Hermon. How long was the pandemic going to last? Should he schedule gigs? Are his gigs going to even happen? He says there were too many variables to consider. Hermon was thankful for what he had -- a safe place to live and stay healthy during an uncertain time -- as his heart went out to those suffering.

The pandemic put him in a personal state of mind.

"Then, all I could do was reflect on the past and also be in the moment. At this time, I was doing a lot of reflecting and I was really in the moment. I was able to think through things pretty clearly, I had a lot of clarity. In this way, I was hearing some music clearly but I was also just reflecting on my heritage, my dad's story, the world at-large...I was thinking about all these things and it went directly into the music."

Most people's favorite song on the album is, "A Conversation with My Uncle." For a long time, Hermon wanted to record his father telling his story of being a refugee. His parents are from Eritrea, an eastern African country. They came to the U.S. as refugees of the war between Eritrea and Ethiopia in the 1980s.

Unfortunately, Hermon's father passed away before he could ever record his father's story. So, Hermon went to his uncle to tell the story and recorded it while in a barn. In the song, Hermon plays the trumpet along to his uncle's voice, making his music part of the conversation.

"I knew I wanted to incorporate the story, musically somehow, but that's all I knew," Hermon says. "And then, I was listening to it and thought, 'Oh wow, there's music in the way he speaks. There's music there.'"

Hermon says the song can be considered an activist piece because it breaks down misconceptions about refugees while serving "as a gateway to understanding."

"It's not just a story of my dad, the refugee. It's a story of the refugee. It's the same, they face hardships," Hermon says. "My dad was crossing the desert on a camel by night because he could be shot during the day. He had to hire a guide, you have to hire a guide otherwise you're going to be lost. Some of them could've just taken your money and left you in the middle of the desert and then you end up in a whole other country where you don't know the language and the religion is different. He had to get himself to Europe, eventually, and use a fake passport. Some of this stuff sounds like stuff from the movies, right? It seems so unreal that someone had to live this. And, leaving behind so much family. It's unreal."

Hermon was born in Dallas, TX and his family moved to JCMO when he was four or five years old. He started kindergarten at South School, where he met music teacher Hugh Flowers. Remembering Mr. Flowers, who passed away in January at the age of 84, Hermon says the longtime music teacher was always encouraging him to participate in extracurricular music activities. Hugh Flowers must have seen Hermon's talent and potential because he was always wanting to teach him more and more about music.

"At the time, I never would have thought of being a musician (in elementary school, that is). But I always knew not only how great of a teacher he was, but also how much he cared," Hermon says. "He went the extra mile for me all the time. He tried to get me to do extracurricular things, musically. And then, he followed my career afterwards and it always just made him so happy that I ended up doing music."

Hermon's first independent performance was at a local retirement home when he was in eighth grade while playing with a local family band. The band played throughout Mid-Missouri, making Hermon get his first taste of being a traveling, gigging musician.

"It was very part of my formation," he said. "I was learning the art of performing, which is a thing on its own. You can learn all the notes and all the scales, but the experience of performing you can only learn by performing."

The ninth-grade talent show at Simonsen was an opportunity to perform and Hermon took advantage.

"I think my peers knew I was doing music, but I think that was the first time my whole class, the whole ninth grade, saw me play music," Hermon says. "(My classmates said,) 'Whoa, you're doing this!' From then on, everyone kind of knew me as the jazz trumpeter."

In high school, Hermon says former JCHS assistant band director Sean Abel made a life-lasting impact on him. Mr. Abel was also the director of jazz studies, and Hermon says he was lucky to learn jazz from him.

"If someone was more passionate about it, he would hone in on them and help them," Hermon says. "I feel lucky to have had him as a teacher because, you know, jazz is a funny thing. Jazz is American music, but it's not like Jefferson City is the cradle of jazz music, right? So, I was lucky to have a teacher like him who was actually into the music and knew it really well. He was very disciplined and expected a lot from us, which was good for us."

Hermon also credits former JCHS band director Stephen Eubanks for helping develop his love for music.

"The whole band program, especially at this time in Jefferson City High School and the middle schools, was really, really strong. One of the best in the state and known for it. I felt very lucky to be in this band."

After graduating from high school in 2006, Hermon attended the conservatory at the University of Missouri-Kansas City. That's when he started touring across the country and by the time he graduated college, Hermon had also toured internationally a few times.

Hermon grew as a musician in Kansas City, one of four cities known as a pillar for jazz music.

"There's an understanding there," Hermon says. "There's a lot of people who listen and understand the music in a certain way, and there's a culture around it. But also, the musicians there come from this tradition, this culture. For me, it was really important to be there."

In that time, he also traveled to and played in Japan, Australia, Mexico, and across Europe, including numerous times in Paris. In 2010, Hermon and his bandmates spent a month playing gigs in Paris. He kept returning to Paris year after year and eventually, decided to make the city his home base.

Paris' strong music scene and deep appreciation for jazz gave Hermon many opportunities to perform.

"It was a very good decision for me, I've learned a lot being here," Hermon says. "You learn a lot anytime you're kind of thrown out of your comfort zone, of course, and put in a different situation and see how different people live and all these things. Too many immeasurable things to condense in a few phrases."

Among the many influential people and experiences in his life, Hermon attributes his success -- first and foremost -- to his parents.

"I was always a good student, doing very well, getting straight As," Hermon says. "For a lot of immigrant families, they usually push their kids to do really well in school, to become doctors and lawyers and engineers. But, I was a black sheep in the sense that I did well in school and could have easily done other things, but I insisted on doing music. And, they supported me in that."

For anyone wanting to pursue music as a career, Hermon says his advice is to "go for what you want to do, don't be afraid. Just do it. Life is too short to have regrets. You should just go for it."

"I wasn't willing to bend my vision," Hermon says. "I stuck strongly to it."

Leandra Hulett shines as leader for Target

Posted by

Brittany Ruess

on

2/24/2021 4:00:00 PM

At Leandra Hulett's house, it's easy to tell she works for Target. Stuffed animal versions of Bullseye, the white bull terrier with the red Target logo over his eye, can be found anywhere in her house -- from high shelves to the hands of one of her three daughters. With a laugh, Leandra joked that her Bullseye collection is "out of this world" and her daughters "tear them up like they do Barbies."


The collection has grown over Leandra's 12 years with Target Corporation, the popular retail company that holds the spot as the eighth largest retail company in the U.S. Starting as an executive team leader intern in college, Leandra worked hard and worked her way up to group vice president -- a title she earned earlier this year.


Reflecting on her life, Leandra says JC Schools played an important role in her success today. She grew up in Jefferson City, Missouri, and still has family here. She started with JC Schools in first grade as a Lawson Lion.


In high school and college, she would become a track-and-field star. But, she got her first taste of the sport during Little Olympics, a track-and-field event for area fourth and fifth grade students at Adkins Stadium.


"There are so many fond memories," she says. "It goes all the way back to Little Olympics."


Leandra says she really fell in love with track-and-field at Thomas Jefferson Middle School, where she remembers practicing inside during cold weather. She smiles as she recalls the sharp turns she would take while running laps or working on her triple jump in the hallway.


Running laps and the countless jumps in middle school paid off as she went on to Jefferson City High School. Leandra was a standout athlete from the start of her high school career. At the 2003 Missouri Class 4 state championships, Leandra won the triple jump as a freshman (38-2 1/4) and earned the title of state champion. Her teammate and fellow freshman, Vera Neuenswander, also took the state championship title in pole vaulting.


"My first year in high school, Vera and I were the first freshmen state track champions in a long time," Leandra says. "It was really fun to celebrate that with her and to really start to understand what the student-athlete world of track and field could do for me long term, alongside working with some amazing teachers and coaches at JCHS."


She won more state championships -- triple jump as a junior and a sweep of the long jump and triple jump as a senior. She was a runner up her sophomore year.


With a full-ride scholarship, Leandra went on to attend the University of Nebraska-Lincoln. There, she earned major honors as a collegiate athlete, including being recognized as a 2010 All-American for the indoor long jump and a 2010 Big 12 Champion for indoor long jump.


As an athlete, Leandra says she learned the importance of commitment, discipline, teamwork, camaraderie, and time management. Athletics also offered Leandra her first leadership opportunities. All of these lessons and experiences have culminated in the successful woman she is today, allowing her to chase professional opportunities with Target and take on challenges in the business world.


No matter what challenge she faces, Leandra says she can relate any challenge to something she previously experienced as an athlete or student.


"(Being a track-and-field athlete) is a huge part of who I am, what I am, what I've done, and what I teach my own girls," she says. "I think, for me, whether you go on to be a collegiate all-American or you don't and you're at whatever school doing whatever sport you love, I think the discipline athletics teaches you is outstanding. And, I think that a huge part of success in the real world is just being able to discipline yourself and to work extremely hard."


Leandra's journey with Target started at a career fair. As a sociology and psychology major, Leandra says she didn't know anything about how the business world operated. But, she approached the Target booth anyway and listened to what they had to say. What stood out to her -- someone who had been a team captain -- was the company's emphasis on leadership.


"Leadership was something I enjoyed," she says. "It came natural to me."


She started her Target career as an executive team leader intern and later became an executive team leader, which is similar to an assistant manager, after graduating from college.


"It was a huge responsibility for someone right out of college, but I loved every challenge and every day that Target brought," she says. "No day is the same, and you're helping people. You help people every day. You truly help people find the joy in everyday life. That's our mission, that's our goal, and I get to do that -- whether that be so small or so big. It's servant leadership, just making someone's day."


Leandra has since held numerous roles in the company, including Store Team Leader, Human Resources Director in Kansas City, MO (leading HR operations for 100 stores in the area), and District Senior Director (directly responsible for all store operations of 11 stores in eastern Iowa).


As a group vice president and now living in Wisconsin, Leandra is directly responsible for all operations of 72 stores. That's $2.5 billion and more than 3,500 team members she leads and supports.


"I'm really excited for this opportunity and what it means at Target, what it means for my family, what it means for other black women in business," she says. "I'm currently the only black female VP of stores right now, so I think that's really important with regards to representation and what that means for other leaders to see someone who looks like me doing a job that they're absolutely capable of doing."


Thinking about influences in her life, Leandra says her No. 1 role model is her mother -- Cosandra Watson. Leandra watched her mother work hard to put herself through school while taking care of her and her brother.


"She taught me about overall perseverance, of fighting for what you want, of being persistent and tenacious," she says. "And, I think that that is me. If there's something I want to achieve, I'm a dog on a bone to go get it."


Roberta and Dennis Licklider, longtime JCHS track-and-field coaches, also made a lifelong impact on Leandra.


"They were a second family to me. They absolutely taught me a ton," she says. "They taught me who I am, the weight I can carry as a leader and how influential that can be. So, I love them for that. I aspire to be like them and to take care of people because that's what they did no matter who you were, what you looked like, or where you came from. I think that sense of inclusion, that sense of togetherness is really important."


Political figures and critical events in history have also played a role in her life, particularly Loving Day. On June 12, 1967, the United States Supreme Court decision Loving v. Virginia struck down all anti-miscegenation laws remaining in sixteen U.S. states, making it legal for people of different races to marry. Leandra's husband, Lukas, is white and they have three girls together.


"I just think about moments in history and time that I'm forever grateful for because I'm able to live the life that we live because of those people who fought for equality or fought for things before us," she says. "So many people that I could name and list and talk to you about that are really influential or a moment in time or a moment in history, but I'm just grateful to be able to be where I'm at to do what we're doing for so many people who paved the way."


For anyone wanting to follow Leandra's lead and become a success, she says hard work is an absolute must, have a plan, have a goal, and write them down to see progress. Some days are baby steps and some days are leaps, she says. Don't forget to appreciate every day.


"If I could really sum it up, don't let anybody tell you that you can't do something, or you're never going to make it this far or that far or whatever that is," she says. "I think you have to find that personal motivation, whatever drive that is for you, to be the best form of you. I think you'll like where you finish, believing in yourself."

JC Schools Alum Ebony Johnson excels in career as a physical therapist

Posted by

Brittany Ruess

on

2/10/2021 1:55:00 PM

In 1976, President Gerald Ford officially recognized Black History Month and called upon the public to "seize the opportunity to honor the too-often neglected accomplishments of black Americans in every area of endeavor throughout our history."

In honor of Black History Month, we are recognizing three incredible JC Schools alumni who have excelled in their careers.

First in the series is Ebony Johnson, a physical therapist at the Special Learning Center in Jefferson City. Thanks for tuning into this series and helping us celebrate some remarkable alumni.

Born in Springfield, Missouri, Ebony Johnson and her family moved to Jefferson City when she was six months old. She attended parochial school until fifth grade, and while she says she enjoyed the faith aspect, Ebony says there wasn't as much diversity as she was wanting in her school. She went on to attend Lewis & Clark Middle School in sixth grade, as a student in its first-ever sixth grade class.

Supporting children with special needs

Today, Ebony does some of the most incredible work in our community. She helps young children, ranging in age from three to five or six, get ready for school. She helps them break physical barriers so that when they go to kindergarten, they can focus on their learning.

She does this by showing them how to balance, maneuver through a classroom, hold and balance a tray to get them ready for the luncline and more.

"(I help) getting their core strong to sit up in the classroom, in the seat to be able to do the pre-academic skills that they'll need for when they transition on to kindergarten," Ebony said. "Really just whatever support we can give to teachers to help get this child's body right so their mind can be ready for learning, to put it in a nutshell. That's what I work on."

Working with children who are non-verbal has led to some of the most challenging yet rewarding moments of her career. Ebony says those moments when a child accomplishes a goal that they've worked so hard on can bring her to tears.

"There are a couple times in session (when I tell myself), 'I'm not going to cry, I'm not going to cry,'" she said. "For instance, I have a friend (SLC child) who we are working on pumping her legs back and forth on the swing, so that child can be independent in swinging...To see the child going from me having to push and me being hand over hand getting their legs back and forth to them taking off and doing it themselves...It's just reassuring that I am getting through to them, they are communicating and I am listening...That just fuels me, that I am understanding them, regardless if they can use their words or not."

Ebony's journey to success

Ebony originally wanted to be a pediatrician. To help get her prepared, she volunteered at the Special Learning Center in high school and also worked at the Walgreens pharmacy. Ebony eventually babysat for families with children attending the Special Learning Center, and she was first introduced to the impact she could make on the lives of children with special needs and their families.

"It's our biggest investment as a parent, my children. I will do anything for my children, and just that understanding of, can I help this family with their day-to-day life? Can I help their family in any kind of way? The more challenging that is, the more I'm drawn to it just to help one aspect of their life be a little bit better," she said.

After graduating from Jefferson City High School in 2001, Ebony attended Xavier University in New Orleans. She earned a bachelor of science degree in biology with a minor in chemistry. Ebony married her husband and together, they had four kids. For many years, Ebony was a stay at home mom -- an experience which she says helps her better relate to the families she serves today.

Ebony eventually went back to school, attending graduate school as a non-traditional student in her dream of becoming a physical therapist.

"I would say it is definitely a challenge but it is, at the same time, very rewarding, and if I can do it, anybody can do it. I had the goal. My parents both went back to school and got degrees as non-traditional students, so I had that model for me," she said. "Don't be overwhelmed, depressed, sad if you don't make that goal and it didn't follow that exact path. Just be encouraged that no matter how many times you have to reroute, if you missed your turn, it's OK. There's another way to get there. Just don't ever lose sight of that goal."

JC Schools education plays major role in Ebony's life

Ebony's JC Schools education was formative for her, giving her opportunities to experience leadership as a middle schooler and take advantage of advanced placement classes.

"At Lewis and Clark, I was selected as a student who got to go to other schools and look at block scheduling," she said. "(The district) wanted the students' perspective (on block scheduling), which I thought was fantastic. They're asking us, as students, what we want and I felt so big. We got to travel and go to different schools and rotate to different classes with them."

Reflecting on her time at JCHS, Ebony says school counselor Iva Presberry, who is retired, made an impact on her life. Ebony had her sights set on Xavier University, but Presberry asked her question after question to help Ebony be certain she was making the right choice.

Ebony also remembers science teacher Anne Hutton coming to class with a genuine enthusiasm to see her students learn. The dissections in Hutton's class paid off big time for Ebony in physical therapy school when she and her classmates dissected a human cadaver. While other students passed out, Ebony was able to stay calm and collected.

Her ability to control her emotions also helps in her professional career as she enters families' homes when the children and their families are having a rough day.

Ebony says she loves being a physical therapist for the Special Learning Center and being able to provide support to children in their homes as well as at the SLC.

"I love being able to work with kids in both settings."

JC Schools celebrates the 100th day of school

Posted by

Brittany Ruess

on

2/3/2021 5:00:00 PM

The 100th day of school is an important milestone every school year, but this year it's even more significant. We are so proud of our students, staff, and families who have committed to following health and safety guidelines to ensure we could continue in-seat learning together as a district.

We made it to the 100th day of school, and that is something to truly celebrate! In honor of the 100th day of school, students across JC Schools had fun dressing up as if they were 100 years old. This is a fun tradition -- made even sweeter this year with all that we've overcome. We are truly #JCStrongerTogether!

Check out a slideshow of our students celebrating the 100th day of school!

In honor of MLK Day, students learn about the Civil Rights leader

Posted by

Brittany Ruess

on

1/19/2021 3:00:00 PM

In celebration of Dr. Martin Luther King, Jr. Day, JC Schools students and teachers took time in their classes to learn about the Civil Rights leader and how he helped transform our country.

First graders in Mrs. Uptergrove's class at Lawson Elementary shared their Dr. Martin Luther King, Jr. cutouts and a fact about him in celebration of Dr. King's life and MLK Day! Students talked about how Dr. King brought people together, protested against segregation, made the world a better place, and gave the famous "I Have a Dream Speech."

After sharing their Dr. King cutouts and facts, they listened to Mrs. Uptergrove read the book, "Coretta Scott," which details her journey in the Civil Rights movement alongside her husband. It was a great book to help the students learn about the fight for equality!

Similarly in Ms. Henderson's first-grade class at Thorpe Gordon Elementary, students presented their Dr. Martin Luther King, Jr. pictures and their favorite facts about the Civil Rights leader to their classmates. Students highlighted the sacrifices Dr. King made in the fight for equality and his education, including going to college at the age of 15.

Both activities were excellent ways for the first-grade students to practice their presentations skills!