JC Schools: All Things Awesome
JCHS teacher, Missouri National Guardsman prepares students for military service
Posted by Brittany Ruess on 11/10/2020 3:25:00 PM
Charlie Ledgerwood was a first-year teacher at Jefferson City High School when the country was devastated by the 9/11 terrorist attacks. That tragic day in American history made Ledgerwood pause and reflect on his life and what he was doing with it.
Interested in military service as a teenager, Ledgerwood ultimately didn't join the military after graduating from Smith-Cotton High School in 1992. But, 9/11 reignited his desire to serve his country. Nearly a decade later, at the age of 27, Ledgerwood walked into a recruiting office and joined the Missouri Army National Guard.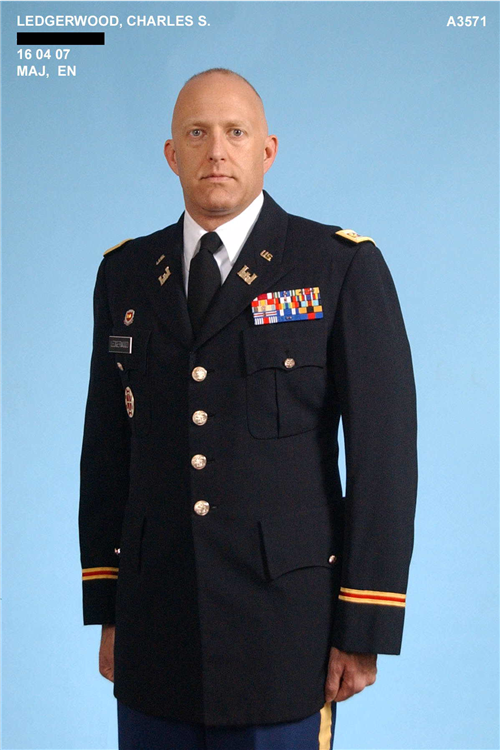 "I remember 9/11 happening and it made me re-evaluate a lot of things I had been doing and wanted to do in my life," Ledgerwood, a JCHS military leadership and social studies teacher, said. "It made me think back and one of the things that I'd always wanted to do was serve my country. As a teacher, I saw myself as kind of serving (my community), but I thought I could do more and wanted to...9/11 just made me re-look at my whole life and see what it is I want to do because, I could have been on one of those planes, I could have been in one of those buildings."
Already serving his community as a teacher, Ledgerwood wanted to give back even more. The Missouri National Guard was the branch in which he felt he could do just that. Now, Ledgerwood serves as an engineer major.
"I like to say engineers build things and blow things up, but it is so much more than that," Ledgerwood said. "Currently I oversee a plans cell; we write out detailed plans for upcoming activities. Previously, I was the executive officer. I ensured meetings and attendees were present, took notes, coordinated meetings between different military sections, and basically ensured smooth operations happen on a day-to-day basis."

Sharing experiences

Following two months of training, Ledgerwood deployed to Afghanistan in 2009 as a captain and headquarters company commander with the engineer battalion. He served there for nearly a year, coordinating and organizing route clearance to help troops locate bombs before they exploded.
Back home in Missouri, Ledgerwood has worked five state emergencies -- four flood duties and one tornado/microburst. Most recently, he worked on the response to the COVID-19 pandemic by distributing personal protective equipment across the state and coordinating troops to assist with COVID-19 testing and food pantry support.

Ledgerwood's experience and expertise are a benefit to his students -- giving his military leadership class an inside look into the military and giving his other students insights into the world outside Jefferson City. His military experience also helps him connect with his students who have family or loved ones who have served in the military.
"My military experience helps with the military leadership class and in the classroom because being in the military provides an instant connection with students who have family in the military or want to go into the military or have questions about the military," Ledgerwood said. "With Jefferson City having a strong military tradition, a strong background...that helps make a connection with students, but also, with students in class, it provides some stories and a bigger world view. The military experience also provides teachable moments that I can bring into class, stories I can tell. I can tell a short story and relate it back to class, especially military leadership (class)."

Called to serve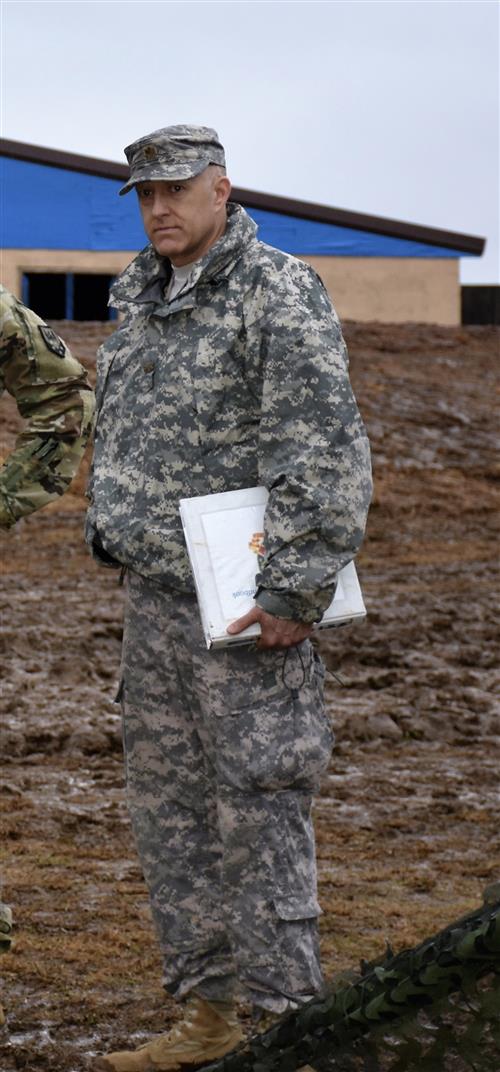 One of the most important lessons Ledgerwood teaches in his military leadership class is the importance of team mentality, and works hard to develop that within his students.
"Being part of the military is being part of a huge team, some of whom you may not get along with on a personal level," Ledgerwood said. "Students learn and must interact with each other and get along, just as they will in any job, military or not. I believe this helps them be better prepared for serving."
Ranae Hurtault, a JCHS student in the military leadership class, said the team mentality created in the class has been very meaningful for her as her classmates have supported her during tough times. Her goal is to join the Army and serve as a linguist in Seoul, South Korea.
"I want to help translate and communicate with other people who may be in need or need help," she said.

Another major component of the military leadership class is preparing students to take the Armed Services Vocational Aptitude Battery (ASVAB), which is an aptitude test developed by the Department of Defense to measure students' strengths and potential for success in military training. Anakin Gray, a JCHS senior who enlisted in the Army, said his ASVAB score allowed him to pick which position he wanted in the Army.

Justin Jowers, a JCHS student who plans on joining the Marines, said Ledgerwood has prepared him for military service by teaching him how to line up, use of point-slack and other positions in the line, run missions, and complete after-action reports.
He said he wants to join the Marines to challenge himself.

"They just have this never-give-up mentality. They just make you learn to never give up, don't give up on yourself, always keep striving through no matter what," Jowers said. "And, that's what I really like about it. You can trust every person in there with your life and that's awesome."
For some of Ledgerwood's students, they are driven to serve because of family history. Sean Bailey, a JCHS military leadership student, can date his family's military service to the Civil War era when his great, great, great grandfather William Alexander Paschal served in the Army.
"In a long line, it's hard to keep up and it's good to pay it back."