We Live United #JCStrong
Automated Attendance Call Feature - Details Here
---
Upcoming Week at a Glance:
3/25-3/29 - Spring Break!
---
SUMMER SCHOOL INFORMATION:
If you are a CURRENT JCHS student and would like to enroll in Summer School, click Here
If you are a NON-PUBLIC high school student and would like to enroll in Summer School, click Here
ANY STUDENT TAKING DRIVERS ED THIS SUMMER, PLEASE READ THIS ADDITIONAL INFO
---
IMPORTANT INFORMATION RE: GRADUATION **PLEASE READ**
As renovations continue at the high school, we are excited to enjoy each new area upon completion; however, with that progress comes challenges to our normal routine.
Every spring we use Fleming Fieldhouse (the high school gymnasium) as a back-up venue for our graduation ceremony just in case we have inclement weather the day of. Due to ongoing renovations, and resulting occupancy limitations we were recently made aware of, we will be unable to use Fleming Fieldhouse as our back-up location this year (egress is limited and would only allow 1-2 family members per student to enjoy graduation if held indoors).
Graduation is a celebration to be shared, and we want as many people as possible to be able to attend in the event of inclement weather. In light of the occupancy limitations, we've opted to use The Linc as our "bad weather back-up." In order to accommodate events already scheduled at The Linc on the day of graduation, the time for our event must be changed to 12:00 pm (noon) on Sunday, May 12th.
We sincerely apologize for any inconvenience this change may cause. We appreciate everyone working with us to meet the challenges of construction as we look forward to the new and improved JCHS, and we very much look forward to celebrating your student's graduation!
What: Jefferson City High School Class of 2019 Graduation
When: Sunday, May 12th at 12:00 pm
Where: Adkins Stadium (The Linc in case of inclement weather)
---
ATTENTION SENIORS OR SENIOR PARENTS:
LIST OF ALL 2019 SENIOR ACTIVITIES CAN BE FOUND BY CLICKING HERE
---
JCHS Senior Portraits are ready to VIEW & ORDER!
If you did not place your order prior to picture day, it's not too late.
Hard copy proofs are being sent home with your student, or you may GO ONLINE TO ORDER NOW!
Click HERE to View Senior Portraits
(or, copy paste this into your browser: https://www.gradphotonetwork.com/schools/QPPlus/SearchNames.aspx?EventID=2046656&_AccountNumber=72708&EventName=&EventDate)
All orders will be direct mailed home in 3-5 days. Please direct all questions, concerns, or special requests directly to Wagner Portrait Group. They are happy to help! 1-800-444-7986 or info@wagnerportraitgroup.com
---
Important Yearbook Information:
Don't forget to order your 2018-2019 yearbook! Cost is only $60. You can order online at www.yearbookordercenter.com. Or pick up a form in the JCHS main office.
---
WAYS TO STAY CONNECTED:
Parents and Students are encouraged to check out the following sources for staying up-to-date throughout the school year.
GOOGLE CLASSROOMS

: Each grade has a specific google classroom to join.

Students:

ask your FAST teacher or your counselor for the code for your grade.

Parents:

make sure your student joins their classroom! It will have grade-specific information (important dates, things they should be doing, things they won't want to miss out on, etc).
---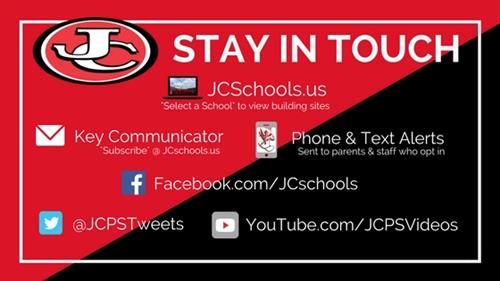 ---