We Live United #JCStrong
Automated Attendance Call Feature - Details Here
---
This Week at a Glance:
All week - dance tickets sold during lunch or before school
1/26/19 - Winter Sports Dance 8-11p.m.
---
Winter Sports Dance Information:
Winter Sports Dance is Sat, Jan. 26th from 8-11pm at JCHS
Tickets go on sale Tues, Jan 22nd - Fri, Jan 25th. Tickets are $7 each. Can be purchased with cash or check only.
All detentions must be served before the dance
Students MUST have 90% attendance by Jan. 22nd. Attendance can be made up (see principal for how to do this), but it must be made up BEFORE Jan 22nd. NO EXCEPTIONS! Excused absences do not count against a student (school related or dr. notes are the only excused absences).
All fines and fees must be paid before tickets can be purchased. Fees can be paid online with credit card through Campus portal or you can pay at school with cash or check. If paying by check, fines and fees must be separate from price of tickets.
Students bringing guests who do not attend JCHS, Simonsen, or JCAC must have a Guest Form turned in AND APPROVED before tickets can be purchased. Guest forms are due by 3:00 on Thursday, Jan. 24th.

---
SENIORS: Did you forgot to purchase your Senior Ad for the yearbook? Good news! We've extended the deadline to Feb. 15.
That's right, you can continue to purchase senior ads for the yearbook until Feb. 15. There are many sizes available, with the smallest starting at just $15. Click Here for forms. You can also get them in the JCHS main office or on the seniors' Google Classroom.
---
JCHS Senior Portraits are ready to VIEW & ORDER!
If you did not place your order prior to picture day, it's not too late.
Hard copy proofs are being sent home with your student, or you may GO ONLINE TO ORDER NOW!
Click HERE to View Senior Portraits
(or, copy paste this into your browser: https://www.gradphotonetwork.com/schools/QPPlus/SearchNames.aspx?EventID=2046656&_AccountNumber=72708&EventName=&EventDate)
All orders will be direct mailed home in 3-5 days. Please direct all questions, concerns, or special requests directly to Wagner Portrait Group. They are happy to help! 1-800-444-7986 or info@wagnerportraitgroup.com
---
Important Yearbook Information:
Don't forget to order your 2018-2019 yearbook! Cost is only $60. You can order online at www.yearbookordercenter.com. Or pick up a form in the JCHS main office.
---
WAYS TO STAY CONNECTED:
Parents and Students are encouraged to check out the following sources for staying up-to-date throughout the school year.
GOOGLE CLASSROOMS

: Each grade has a specific google classroom to join.

Students:

ask your FAST teacher or your counselor for the code for your grade.

Parents:

make sure your student joins their classroom! It will have grade-specific information (important dates, things they should be doing, things they won't want to miss out on, etc).
---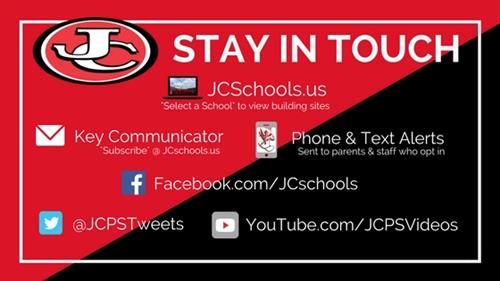 ---